AUDIOSCAN
Ghulamís haunting ghazals
Zikr (Times Music)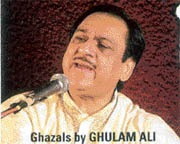 There are several ghazal singers whom one has grown up admiring. It pains one to hear them today when they have gradually lost their golden touch. Time can be very cruel at times.
At the same time, this phenomenon also makes one thank God that there are glorious exceptions to the law of entropy. Lata and Asha are two whose voice grows younger as they age. There is another legendary name that belongs to the same list. Ghulam Ali too has lost none of his mellifluousness.
This album of his new ghazals is a living testimony to this fact. It has been sung with all the mastery and passion that has been his hallmark all along. In fact, in some of them he is younger than he ever was.
Technically, Peene lage sharab may not be the most brilliant but as far as sheer listening pleasure is concerned, this one seems destined to be at the top of the chart. Ghulam Aliís voice and Nayab Rajaís music have come together in a fabulous way and have embellished Asad Ajmeriís lyrics with a heady quality.
Two more ghazals penned by Ajmeri are featured here. Hum tere shehar mein as well as Tere nazdeek speak of his fluency.
But my favourite is Daag Dehlaviís Le chala jaan meri. Since the lyrics are already on oneís lips, one can savour it with double delight. Other compositions included in the album are Shaam jab by Abhilash, Chaudvin ka chand`85 by Kaisrul Jafari and Faasla iss kadar by Madan Pal.
White (Times Music)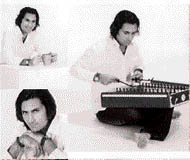 In true tradition of a gharana, Rahul Sharma seems well ensconced to wear the mantle of his legendary father Pandit Shiv Kumar Sharma. He has extracted the same kind of magic out of the strings of the santoor as the senior Sharma does. The only difference is that he has moulded the classical strains to suit modern taste.
His exposure to various genres such as popular, new age, high-energy trance, folk and sublime has helped him in this venture.
The list of titles such as January, Clouds, Orchids, Russia and December may make one feel that the amalgamation of sounds has been put to words. But actually, there is sheer etching of sounds from the 100 strings of the santoor.
The album has been intriguingly christened White. Sit back and enjoy mellow white, fiery white and mystical white. ó ASC