Stamped Impressions
Armed with music
Reeta Sharma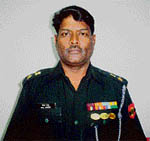 Lt Col Noel Andrews is the pride of 'Indian Army Music Bands'. He has earned many awards and honours while serving the Army as a musician.
Born into a Christian family in Chennai, Andrews was initiated into music when he was eight. His mother used to lead the church choir. His maternal grandfather Simon Lewis was a renowned violinist from whom Andrews began his education in violin. It was his rigorous training that helped him get selected in the Army as a junior musician at the age of 18 in 1972, in 3rd Battalion, Brigade of the Guards.
Musicians have played an important role in the Indian Army. In times of battle, military bands serve to ignite passion amongst soldiers, which even the most eloquent oration would fail to inspire. Post-Independence, the Services bands, including that of the INA, were reorganised by General KM Cariappa (later Field Marshal), the first Indian Commander-in-Chief, who took keen interest in musicians of the forces and became the founder of Indian Military School of Music at Pachmarhi in 1951. This school gives formal training to musicians in the Army and all the courses here are linked with promotions. It goes without saying that Andrews is a formally qualified degree holder from this school.
When Andrews joined the Army he had been trained to play only stringed instruments. But he soon learnt to play the 'blowing' instruments as well. So today whether it is violin, clarinet, saxophone, trumpet or xylophone, Andrews has mastered them all.
In 1977, he joined the military school at Pachmarhi to do a one-year certificate course. The then director of the Pachmarhi school was so impressed with his talent that he recommended him as instructor in the music school itself. Andrews served there as an instructor for five years. In 1985, he got promoted as Senior Musician and was posted to the Brigade of Guards Training Centre in Nagpur.
Recognising Andrews' talent, the Army commissioned him as Second Lieutenant in 1987. Thus he became the first officer from the music world to don the olive green uniform in the Pachmarhi school.`A0 In 1998, when the Director of the school retired, Andrews was promoted and given command in his place.
When the then Governor of Madhya Pradesh, Serla Grewal, attended one of his concerts, she was mesmerised. His performance prompted her to make an announcement, "Let us start a Pachmarhi festival". The first festival was inaugurated with Andrews' concert. The festival later became an annual event. Soon Andrews was promoted to the rank of Captain. In December 1990, a charity concert for the Army Wives Welfare Association was held at Siri Fort Auditorium. President R. Venkataraman was the chief guest at the function, where Andrews conducted a 90-minute concert. He was awarded a commendation certificate by the then Chief of the Army, General S.F. Rodrigues.
In 1991, Andrews got posted to Calcutta where he gave training to the pipers at Shillong and by 1994 he rose to the rank of Major. Over the years, Andrews has not only mastered western instruments but also Indian instruments. In fact, one can be sure to see him conduct the concert whenever there is an important Army function. His skill remains unmatched when it comes to presenting fusion music with western and Indian instruments like sitar, tabla, santoor, jal tarang, dilrooba, pakhawaj, mridangam and dholak.
In 1997, at the Army Day Show at Goa, Andrews won over the Goans by presenting a concert based on Goan folk music. General Rodrigues was once again the chief guest and Andrews was awarded yet another Chief of Army Staff's Commendation Certificate. After the Kargil operation, he conducted a soulful concert for the scouts in Leh.
Andrews is the first musician of the Army to have earned the rank of Lt. Col. Yet another rare honour that came Andrews' way was on August 28 this year, when the Swedish military invited him to conduct a concert presenting a fusion with Indian and western instruments. There were nine bands from seven countries and he led 47 musicians from the Indian Army and presented four programmes in Sweden.
On September 19, Andrews was at Chandimandir to celebrate the 59th anniversary of the Raising Day of the Western Command. Lo and behold, he conducted a 90-member band which included Army Symphonic Band, Rajputana Rifles Regiment Centre Band and 14 Gorkha Training Centre Band. The performance kept the audiences spellbound. In all, he presented 12 items, which included Soliloquy, Mangal Gaan, Light Cavalry, Spanish Gypsy, Blue Danube Waltz, Lara's Theme etc. It was really commendable that Guru Gobind Singh's composition De Shiva Var Mohe generated as infectious an energy as the poem evokes. The two Gorkha boys who sang this number did not know Punjabi yet they delivered perfect diction. The Indian folk tunes presented by L.B. Gurung were again impressive.
The ambience in which the live band was presented was breathtaking. The 90-member band was seated in front of a building, which was appropriately lighted and lent an extraordinary aura to the celebrations.