Career Hotline
Worth the risk
Pervin Malhotra
Q What does insurance and risk management involve and where can I pursue it? What are the job prospects?
— Tribhuvan Kapur
A Opening a factory in Bangladesh may help a garment manufacturer's bottom line – but is it worth the risks? Progressive firms are relying on risk managers, previously the worriers who recommended safety plans and disaster insurance, to plan the future.
While looking at the plant in totality, the risk manager might assess earthquakes, currency fluctuations, and damage to reputation if an unscrupulous factory manager begins using child labour. Then, the risk manager proposes solutions: spend more to make the building earthquake-proof, pay foreign expenses in local currency, closely monitor employees. If the project is deemed worthwhile, the risk manager will transfer the risk to another party, perhaps an insurer. It goes without saying that companies who know how to manage risk will have a competitive advantage.
A background in finance, calculus, economics, accounting, and insurance plus a knowledge of investment banking is important, as many firms will use risk managers from investment houses.
International Institute for Insurance and Finance, Platinum Jubilee Building, Osmania University Campus, Hyderabad-500007 (www.iifindia.com) In collaboration with Risk Mgt Institute, Georgia State University. Course: PG Diploma in Insurance & Risk Mgt (1-yr, FT). The course is accredited and certified by Osmania University. Eligibility: Bachelor's degree. Selection: CAT/ICET/GMAT/AIMAT

Institute of Insurance & Risk Mgt (established by IRDA & AP Govt. in collaboration with UNCTAD), 310, Rd #25, Jubilee Hills, Hyderabad (AP). Course: PG Diploma in Risk Mgt. Eligibility: Bachelor's degree (55p.c), Selection: CAT/MAT scores, Interview. www.iirmworld.org.in

ICFAI offers a PG Diploma in Enterprise Risk Management (1-yr). www.icfai.org/icpe

Institute of Certified Risk and Insurance Managers, 52, Nagarjuna Hills, Punjagutta, Hyderabad - 500 082 (affiliated to ICFAI University) www.icrimindia.org. Students who complete the ICFAI 's MS Insurance Program will be designated "Certified Risk & Insurance Managers" by the ICRIM.

Birla Institute of Management Technology, Greater Noida (www.bimtech.ac.in). Course: PG Dip in Insurance and Risk Management (1-year).

Jaipuria Institute of Management, Noida (www.jimnoida.ac.in). Course: PG Programme in Management in which students can specialise in Insurance and Risk Management.

Maharashtra Academy of Engg and Education, (affl to University of Pune) MIT College of Insurance, www.mitpune.com Paud Road, Pune-411038; Course: PG Diploma In Risk and Insurance Mgmt.

University of Burdwan, Directorate of Distance Education, Golapbag, Burdwan-713104 offers an MBA in Insurance & Risk Mgmt (www.buruniv.ac.in).
Wrapsody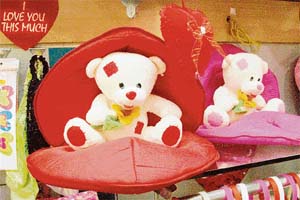 Q I am very creative with gift-wrapping. Using odds and ends in the house, I can transform an ordinary gift into something special. How can I take this up as a profession?
— Neera Jain
A Wrapping constitutes a significant part of the whole gifting experience.
And the market is full of exquisite varieties of paper, boxes, cloth and accessories like dry flowers, ribbons and pearls ... you're spoilt for choice.
For those of us who get our fingers tied up in knots while wrapping gifts, help is at hand.
The demand for designer gift-wrapping has given rise to a whole new breed of professionals called gift-wrap stylists. These designers often sit in consultancy with their client and take down details like the recipient, the budget and the occasion – of course a corporate gift-wrap is very different from a birthday gift.
The festival and wedding season spells boom time for gift stylists and you can charge anything from Rs 35 - Rs 5000 per wrap! Designers charge a lot more for theme-based trousseau gift-wrapping.
So, if you have a gift for gift-wrapping you can certainly take up this profession. Beginners can start out from home or join designers or stores that specialise in gift-wrapping to hone your skills. There are some excellent books in the market, to inspire you and get you going.
There is no end to innovation. Just keep experimenting with different materials and colours, and you'll never have a dull day.
Gem of a chance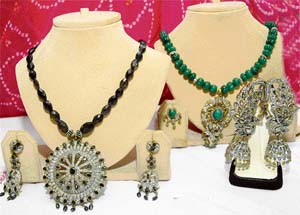 Q I am interested in pursuing a career in gem and jewellery designing. What is the eligibility? What are the job prospects?
— Ridhima Poori
A Growing at the rate of 30 per cent annually, the gem and jewellery industry is the largest forex earner for India. (The Gem & Jewellery Export Promotion Council (GJEPC) envisages an export target of $16 billion in 2007).
In the last five years, India has moved up five notches to emerge as the third largest diamond jewellery market in the world. And now, like its international counterpart, the relatively new branded and "hallmarked" jewellery segment is all set to touch a new high. So, all in all, if you have a flair for design and can take the hi-precision detailing in your stride, it's a great field to be in.
While gemmology involves sorting, grading, valuation, identification and cutting of gems, jewellery design as the name suggests, deals with the designing of ornaments — precious, costume or junk jewellery. Accordingly, jewellery designers work with precious and other metals, gems precious and semi-precious stones, terracotta, glass and wooden beads, plastic, cowrie shells, etc.
Trained designers usually work for established jewellers and are employed by precious and costume jewellery-manufacturing firms, buying agencies and large jewellery exporters and showrooms.
Initially, it may be a good idea to work with a couple of established jewellery designers to learn the ropes.
Even hi-fashion jewellery magazines like G & J that showcase the latest trends in jewellery design recruit upcoming designers. Yet another option is teaching — either as regular or part-time faculty in a reputed design school. Of course, with some experience, you can even launch into marketing of designer or costume jewellery on your own.
Customised jewellery, which is tailormade to match the exact specification and personality of the buyer, is in vogue. And to meet this demand an upcoming field in the gemmology and jewellery industry is consultancy. If you follow the regional trends and have an in-depth knowledge of gemstones you can become a consultant and advise customers on what to buy and at what rate.
By taking a percentage share in the assessing and valuation of ornaments independent gemmologists can earn in lakhs.
If you wish to make a career in this field, get into it straight after you finish school.
Build a solid future
Q To make a career in urban planning and development, what courses would I need to take? What is the eligibility and what are the prospects in India?
— Himesh Dhawan
A Town planning is a full-fledged profession in itself with specialized fields such as urban planning, environmental planning, housing planning or transport planning.
The primary aim of town planning is to balance the conflicting demands made on urban and rural land.
Before making a plan, the town planner has to assess and evaluate all available information. This involves research, surveying the area and consulting with those in the government's health, sanitation and transport departments. Much of the information is technical or in chart, graph or statistical form and computers are increasingly being used to store and analyse the data.
Besides a fair amount of administrative and managerial skills, writing reports, addressing meetings, you will closely work with other professionals such as architects, lawyers, civil engineers, statisticians, sociologists and economists.
A knowledge of computers is essential as computer-aided design systems help in preparing the layout or video simulation to help the client envision your ideas.
Opportunities exist in government as well as the private sector. After your Master's in Town Planning, you can join a firm of housing developers or government organisations like the Municipal Development Authority or private planning consultants.
There are openings in tourism boards, health authorities, construction companies and environmental organizations.
Besides IIT Kharagpur, IIT-Roorkee, Bengal Engineering College, postgraduate courses in planning are offered at:
Institute of Town Planners, 4 A, Ring Road, IP Estate, New Delhi (www.itpindia.org)
Eligibility: B.Arch, BE / B.Tech (Civil)/ BPlan OR M.Sc / MA (Geography / Sociology / Economics) OR Diploma in Town Planning (55p.c). Minimum 1-year work experience in town planning. Selection: Associateship Exam
School of Planning & Architecture, 4, Block-B, Indraprastha Estate, New Delhi (www.spa.ernet.in). Course: M.Planning. Eligibility: Arch/B.Plan/BE (Civil)/ BArch Engg or equivalent.
School of Planning, Centre for Environmental Planning & Technology, Ahmedabad. Course: PG Diploma in Planning (equiv to Master's degree). Eligibility: Bachelor's degree in Arch / Civil Engg / Planning or Master's degree in Geography/Economics/Sociology.
Areas of neurophysiology
Q I am doing Physiology honours (Part-I). Please tell me about the specialisations that I could pursue after B. Sc, like neurophysiology, and the admission procedure and the eligibility.
— D. P. Badola
A Neurophysiology is offered as a postgraduate diploma only at Sri Venkateswara Institute of Medical Sciences, Alipiri Road, Tirupati 517507, Andhra Pradesh. (www.tirumala.org). The eligibility of the 2-year course is B. Sc with relevant subject (BZC/PCM). Admission is through an entrance test.
Meanwhile, the National Institute of Mental Health & Neuro Sciences (Deemed University), Bangalore-560029 (www.nimhans.kar.nic.in) offers a diploma in Clinical Neurophysiology Technology (1-year). However, the eligibility for this course is a B. Sc with Physics / Electronics / Computer Sciences with a minimum Class II or Diploma in Electronics / Electrical / Instrumentation / Computers or PUC with 3 years experience as EEG Technician. NIMHANS also offers M. Phil and Ph. D in Neurophysiology.
However, M. Sc (Physiology) is offered at several universities all over the country. You'll have to find out whether Neurology or Neurophysiology is offered as a part of these programmes.
The writer is a noted career consultant
Please send in your query, preferably on a postcard, along with your full name, complete address and academic qualifications to: Editor, Jobs and Careers, The Tribune, Sector 29, Chandigarh-160030, or at careers@tribunemail.com