IT matters
Kirti Kamal Bakshi
Information Technology has a long, evolving history. Both, the tools that are used and the applications that are written have evolved over time. Information Technology will continue developing for many decades to come.




Careercature
Sandeep Joshi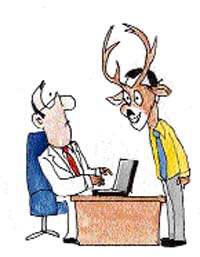 Sir, since you said you were looking for new faces...

Smart Skills
Managing art
Usha Albuquerque
ON September 2005, Tyeb Mehta's painting 'Mahisasura' broke the $1- million threshold at the international auction house, Christie's and opened the floodgates for Indian art. Since then, many modern masters such as M.F. Husain, F.N. Souza, S.H. Raza, Ramkumar, Akbar Padamsee, V.S. Gaitonde and J. Swaminathan have comfortably passed the once difficult-to-imagine Rs 1-crore target.

Bits & bytes
Forum for hospitality professionals
Addressing a long required need of the hospitality industry, a forum for hospitality HR professionals, training managers and hospitality educators, the Hospitality Educators and Recruiters Association, was launched in Chennai recently.

Customer care, quality & innovation among top Indian corporate values
Environment and safety issues figure lower in the agenda of Indian corporates than its foreign counterparts, a study has revealed. The study, International Corporate Values Index 2006, that was conducted across 3,236 corporations in 12 countries, found the issues of customer satisfaction, quality and innovation to be the top three in the priority list in India.

Career Hotline
Worth the risk
Pervin Malhotra
Q What does insurance and risk management involve and where can I pursue it? What are the job prospects?
Wrapsody

Gem of a chance

Build a solid future

Areas of neurophysiology