IT matters
Kirti Kamal Bakshi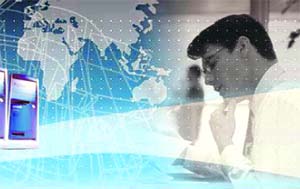 Information Technology has a long, evolving history. Both, the tools that are used and the applications that are written have evolved over time. Information Technology will continue developing for many decades to come.
A glimpse of the past
In the 1940s, computer users wrote machine code by hand, whereas in the 1950s, early assemblers, macro assemblers and interpreters were created. The sixties witnessed the second generation wherein optimising compilers and inspections were being used to improve productivity and quality. After the 1970s, astounding and rapid progress revolutionised the whole world. Personal computers made their first appearance in the early 80s and a world of career opportunities was created. Suddenly, there was a flood of job opportunities.
The scenario became more complex when different technologies were developed and the choices increased.The IT boom dipped for some time but soon re-emerged with more technical platforms , more job opportunities and threw open the door to the global market .Today, we see a number of technologies being added in response to the needs for effective and efficient work flow management systems .
What the future holds
As society's use of the computer continues to expand, with the growth of the Internet, the Web, new applications, and embedded systems, the need for IT professionals grows with it. The IT programmes and courses break down into six different career fields. Several programmes include one or more of these areas of specialisation.
For easy understanding, the current scenario can be broadly divided under the following headings:
Internet and the Web
The Internet provides low-cost access to information and worldwide markets. Internet and web developers are experts, who use technologies and methodologies to design, implement, integrate and manage secure software applications. The Internet has provided a new economy and a new way for information exchange — a trend that will continue.
Programming and software development
Systems analysts, programmers and software developers are the architects and builders of the digital world. They analyse business requirements, write specifications and design or modify a secure code based on industry standards. Learning the design, development and maintenance of code provides a solid foundation for individuals who want to learn multiple programming languages. There are careers for analysts or programmers in all aspects of information technology, including business, manufacturing, graphics and entertainment.
Database
Organisations of every kind, in every field, have a need to record and preserve information (databases). The collection, analysis, presentation and preservation of data is crucial. Database developers analyse the requirements, implement software systems and manage users. Database administrators monitor performance, plan future expansions and manage data system security.
Networking and security
Before the Internet, there were individual or stand-alone computers connected by private computer networks. Today, network and security experts design systems using multiple technologies to securely connect computers and users to protect them against unauthorised intrusion (hackers) or disruptions (virus) from the Internet. Network administrators analyse an organisation's business requirements and design information system solutions that include access to applications, data and e-mail. Their goal is to manage network operations that ensure secure infrastructure and increase effectiveness for computer users in every type of business.
User support
Experts in this field provide technical assistance, advice and support to end users on issues of computer hardware and software. Software specialists troubleshoot and deal directly with end users, answer questions, solve problems and provide guidance on software or system set-up issues as well as general computer maintenance and repairs. There are more and more computer users every day and the need for user support will continue to grow.
Office software applications
Software applications have become standard and are used to achieve productivity across all sectors. Learning to use these tools effectively to create, manage and present information is now an expectation for almost everyone. Above and beyond being proficient, there are careers based on training, support and development of people and systems at all levels using this technology. Most jobs require some level of computer application use.
Skills needed
The level of education and quality of training required by employers has been rising due to the increasing complexity of programming tasks. Employers seem to be especially interested in candidates with formal training and some hands-on experience.
Employers look for job candidates with skills in management information systems, operating systems, hardware, and data base systems, programming languages, systems programming, and general business skills and experience related to the operations of a company.
If you keep your skills up-to-date with the latest technology, you will enjoy good prospects for advancement as a computer programmer. In large organisations, you may be promoted to 'lead programmer' and be given supervisory responsibilities. If you begin as an applications programmer, you may choose to become a systems programmer after you gain experience and take courses in systems software. With general business experience, you can become a programmer-analyst or a systems analyst, or be promoted to a managerial position.
Career opportunities
Employment of computer programmers is expected to grow faster than the average through the year 2006. Jobs for both systems and applications programmers should be abundant in the fast-growing industries of data processing services, software houses, and computer consulting businesses. In addition, there will be lots of job openings for programmers to replace those who move to other occupations, such as managers or systems analysts. The recent explosive growth in Internet technologies has led to an unprecedented demand for skilled and creative information technology professionals.
Placement prospects
Graduates may find employment in:
The information and communications technology sector

Major companies

Public sector organisations

Public and private research organisations.
Training talk
Some of the institutes offering these courses are:
(The list is not exhaustive)