Simply music
Saurabh Malik
He does not believe in mixing Raga with Reggie! Not that Nitin Malik of Parikrama is not a strong exponent of fusion music! It's just that the young lead vocalist believes in keeping the melodies musically uncomplicated. No wonder, Parikrama's songs echo against time, and the decked up walls of the discotheques, for longer durations.
"You may find it hard to believe, but simplicity is the key to harmony," he asserts. In Chandigarh to gyrate some throbbing music at a live concert being organised for saving the hearts of children suffering from cardiac disorders, Nitin asserts: "If you want your music to have a longer shelf life, you have to keep it simple, essentially."  
The problem with today's music, and movies, is that it is too complicated, he says. "Compared to the flicks and the tunes of the days that are no more, the stuff is pretty knotty. That's why things are pushed into the trash can of your memory very fast, though at one point of time you had been tapping your feet in sync with the melody".
With a wave of his hand, Nittin accompanied by another group member whispers loudly, "I still love seeing some of the old Guru Dutt movies and listen to the music of the 50's and the 60's because it was all so refreshingly soft."
But does that mean somewhere down the line all these experiments are only complicating things, but causing noise in music? "No, I would not say that. For, the term noise in music is a bit too loud. But yes, the quality of music is definitely going down. After every 100 songs, you now have one good song and that also does not last long."
True, but does that mean fusion music should be discouraged? "Amalgamation is essential especially at an international level because the natives there would not like foreigners from India singing purely in their language. But fusion should not be fifty percent Indian and fifty percent Western. It should have touches of combination".
Folks, Nitin know what he is saying. For, the rock and roll band formed way back in 1991 has been seamlessly and harmoniously merging classical Indian instruments like the mridangam, tabla and flute with "conventional" instruments like the guitar, drums and the keyboard. Some of their hits include: "Till I am no one again", "Open skies" and "But it rained".

Different Strokes
Parbina Rashid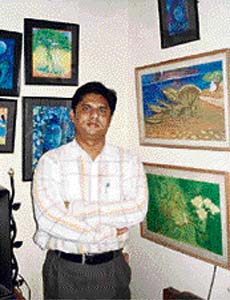 DOC ON THE ART BLOC: Rajendra Kumar Kanojia
He is good at healing your fracture but he is equally good at healing your heart too. He is Dr Rajendra Kumar Kanojia, Assistant Professor in the Department of Orthopedic Surgery at PGI. But why we seek him out is not for his skilled fingers that handle the scissors with precision, but his artistic hands that handle paints and brush with equal ease. That's not all, his artistic self also finds expression in poetry and short stories.
Difficult to imagine, especially after you have had the misfortune to see a doctor working the way they do at the OPD of PGI? But sit with him for a while, he makes life look nice and bright.
"Healing people, writing poetry or painting are all connected. All three things have to do with creativity," he tells us and we begin to see his philosophy. To simplify this he recites a self- composed verse—
Tut kar gir hi gayi
Thak kar pattiyan sabhi
Aur naye ped ne
Phir odh li nayi sondhi sawan ki chadar hari
"Life is not a smooth ride, but one should not get dejected for there is always hope for tomorrow," says Kanojia.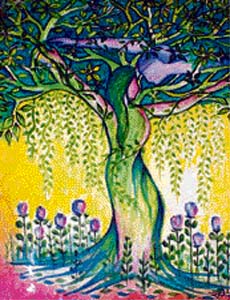 Writing and painting has always been a passion with this Allahabad-born doctor. Medicine happened later. "The first real high I got from my writing when a series of my short stories were aired on the Yuv Vani programme of the All-India Radio when I was only a class XI student," he says recalling the days when he used to take part in all major painting and writing competitions without telling his parents and then come back with prizes only to meet the scornful look of his parents. But once he proved that he was equally good at his studies, their approval followed.
He never gave up his childhood enthusiasm. "In fact the years I had spent in Delhi, had been my best years in terms of literary achievement," says Dr Kanojia. During this period Dr. Kanojia published three books – Hamare Hisse Ki Duniya (an anthology of poems) and two short story collections Lautte Hue Din and Shinakt. Well, Dr Kanojia has been busy with his creative pursuit but that does not mean that he has been neglecting medicine. Kanojia's book Kamar Dard: Karan and Nivaran has become a guidebook for the common man.
As far as his paintings go, Kanojia believes in taking inspiration from nature. "I find painting therapeutic and I like capturing nature on canvas," says Kanojia. He has a collection of 100 of his paintings. "I will like to exhibit them someday," says Kanojia with a dreamy look. Who says toiling hard with subjects like chemistry and biology saps one's creativity?

Beauty doctor comes to town
Anuradha Shukla
Vidya Tikari - the very name spells the answer to your dreams of being the head-turner at parties with that perfect face. And the lady is in town with her specially trained team this festive season as she opens a special franchise spa on November 1 in front of Hotel Mountview. The woman, known internationally for her make-up and beauty solutions, will be available for special appointments.
Her magic wand was at work at the special makeover workshop on Monday where she and her team turned one hopeful after another into party queens. Be it a shagun ceremony, receiving the guests, a party you have to go to or the most important occasion of your life-your wedding. Vidya did all the dos in matter of ten minutes.
For petite Vidya, notices first is 'the skin tone, the age, dress, jewellery all have to compliment the person.' "With make-up you can hide any flaw and bring out your individuality."
Into powder-based make up, Vidya uses lot of detailed steps in reaching the perfect balance. As she used mostly MAC products at the workshop, she says she also 'likes to work with the Lakme and Chembor products for Indian skins.'
For the festive and the wedding season, the colour purple was in, even for the brides. "The brides can go soft on the lips and heavier on the eyes and I am using lot of shimmer sparkle and glitter. Diamond like sparkles on the eye lids of the brides for the rich jewelled look." "What's new is also the gloss on the lips even with shimmer. Shimmer is in for day make-up and glitter is for the evenings and night parties." "I am using lot of white glitter frost look", says Vidya. "An absolute must for all is to use the right amount of the tricky shimmer and glitter. Use colours that sit on your skin", she says as she vouches for natural colours. For the hair it is the loose hair pile-up, which is going to be the mantra this season.
Her Beauty Studio and Spa is destination finale not only for specialised make-up but also for total beauty solutions. From toenails, facials, scalp massages to haircuts, all under one roof by a trained team of eight members. Affording Vidya for special appointments will pinch middle class pockets at Rs 14,000 for the D-day make-up, but who's complaining!

It's not an easy job to handle so many hotshot mediapersons, that too for a stretch of about three hours, under the same roof. But Jeff Gralnick did a remarkable job. In city to address a one-day workshop titled 'Trends in Global Media', this Chairman of CNBC, NBC and Public Television at the Press Club, he knew how to get the interest going throughout the session.
Treading carefully on the minefield (in his own words), which our esteem journalists laid down for the veteran, Jeff (with his casual jacket and trousers, he was instantly on the first name basis) carefully answered about the pros and cons of the new technologies in media.
But more than the knowledge of latest technologies, we are more interested in knowing the impact of it on the media functioning. So the question that pops up in the discussion is— has the new technologies weakened the position of an editor? "Not in the USA," comes the reply and of course the position of an editor depends on the management. "But then money is a cool dictator." Irony!
And social responsibility of a newspaper? "Just report fairly and honestly. And remember that it's not the job of a newspaper to save the world," says Jeff. With a 45-year career in broadcast news, a writer and producer of special events covering among other things, every space launch from Alan Shepard to the landings on the moon and political conventions, Vietnam War, he sounds like the man who is absolutely sure of what he is talking about.
As the stress of the workshop was the digital media, we print-media people express our concern over the stiff competition we are forced to meet with. "With television and Internet breaking news minute to minute we have rethink our working module. Find out what are the additional information we can give out to our readers who are still loyal to the print media," he says. So is evening newspapers the answer?
"It's an outdated concept which has been completely wiped out by Television," is the words of wisdom. Well, Jeff did educate us. But this media magnet too has something to take home from this visit. "After staying four days in India, I can go back and say 'hey there is more to India than it just being a northern point." Well put! — P.R.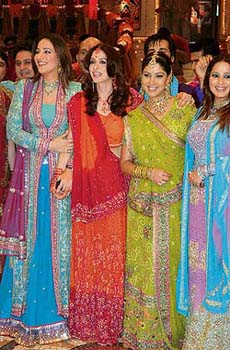 Diwali is a day to celebrate family bonds and love. And to add to the brightness of the festival is STAR PLUS joining hands with TANISHQ to bring a special two hour episode 'Tanishq presents Diwali Dhamaka' on Oct 14th from 7.00 to 9.00 p.m. Diwali Dhamaka brings the Viranis, Aggarwals, Lambas and all the other family members of the STAR Parivaar soaps under one roof to mark the mood of togetherness. They can all be seen sashaying & jiving to the rhythmic beats of the latest bollywood numbers in their traditional best. Rakshanda Khan and Ali Asgar will add that extra zing & dash as the hosts.
Be it the moves of Sangeeta Ghosh known as Priyanka on the song dholna or Sakshi Tanwar known popularly as Parvati in her spell binding performance on Kangana Re and Chalka Chalka or the double act by favourite vamp Urvashi known as Kumulika and Sikandar or Indroneil dancing to the tune of latest blockbusters Beedi Jalaile and Namak Ishq Ka the evening promises to be complete entertainment package for viewers.
To lead the sequences, will be television's first family...Virani parivar's front runners-Tulsi (Smriti Irani) and Mihir (Ronit Roy) along with Kahiin To Hoga's lead Kashish (Aamna Sharif) who will rock 'n' roll together as they dance on the Bollywood track-Rock n Roll Sohniye...from the movie Kabhi Alvida Na Kehna. To jazz up the evening will be the performances by the famous on screen couple Krishna Tulsi & Lakshya from Kyunki Saas...and some unforgettable group performances by artistes. You can join the razzmatazz and the bandwagon, as the icing on the cake would be boys' versus girls' Antakshri led by 10 members in each team!
— TNS

NEW RELEASES
Diwali bonanza for cine-goers
Come Diwali on October 21st the cine goers have lot more to look forward to. The movie business is going to zoom on the eve of Diwali with two big releases Farhan Akhtar's Don (remake of Chandra Barot's classic Don) and Sajid Nadiadwala's Jaan-E-Mann. Exhibitors from Punjab are excited about these two films, which are the real attractions and carry good reports already. Star-studded Jaan-E-mann is a pure dhamaal with a rocking cast. With Jaan-E-Mann being an over two and a half hour film in the multiplex Fun Republic at Manimajra is thinking of increasing the number of shows to capitalise on the festival rush. Exhibitor Ramesh Sabharwal (R.S. Pictures) says, "this film will be a profitable venture for us and the theatres". Mr J.S. Jolly, Sr. Vice-President of Fun Republic, Mr Roop Lal, Manager, K.C. Panchkula, and Vinay Gambhir, manager Batra theatre are confident that this Salman Khan, Akshay Kumar and Preity Zinta starrer will live up to the expectations of making good money. The film's cost is in the range of Rs 44 crore. Jaan-E-Mann will be released with 45 prints in Punjab territory.
Also ready for the Diwali fun is Ritesh Sidhwani's Don starring Shahrukh Khan. The buzz is that it cost Ritesh Sidhwani Rs 35 crore. We have a Shahrukh Khan, Priyanka Chopra, Isha Kopikkar and Kareena Kapoor starrer. Don will be released in Punjab with 40 prints on October 20 (Chhoti Diwali). Mr V.K. Chopra of Nirman theatre, Chandigarh and Mr Kamal Kapoor, Manager, Suraj, Panchkula says, "coming in the Diwali week from reputed director Farhan Akhtar, the chances for Don are bright. The film should sail through", he predicts. Mr J.S. Jolly of Fun Republic is expecting the two biggies this Diwali to do good business on the eve of Diwali Don and Jaan-E-Mann, releasing together make it a bumper week for the Bollywood. Both films could be the bigger draw because of stars like Shahrukh Khan, Salman Khan and Akshay Kumar and the popularity of music of the films. Don is all set to take on Jaan-E-Mann. The viewers will witness a clash of the Khans — Shahrukh and Salman. — D.P.

CAMPUS CAFE
Zindagi Rocks
The undergrad punk rock scene was never so swinging. Go to the varsity or even the college campuses across the city and you will find so many youngsters with guitars and drum sticks in their rhythmic hands experimenting with harmony.
Fellows, you have guessed it right. Creating melody is the latest scream amidst quite a few students leading a musical existence on the campuses in complete harmony with the academics. No wonder, more than a few Panjab University departments nowadays have their own music groups.
The situation in the colleges is hardly any different. In sync with the varsity, you have youngsters striking the right cord with the audience in almost all the colleges after forming their own little bands and groups, in addition to the regular gidda and bhangra teams.
If all this is sounding noise to you, just listen to some of the hardcore rock music fans shaking and rolling freely on the campuses. They will tell you all about the craze that's filling their lives with rhythm and harmony.
"For the younglings, musical notes flowing passionately out of the guitar are far more alluring than the ones dictated by the instructors from the dais in the classrooms, routinely," says a local college student, Ravi Sharma.
Well folks, just in case you haven't seen the students performing live, simply hop into your car and drive down the road winding its way to the Chemical Engineering Department in the varsity. You will find the members of Dhatu group engineering music for rocking their way up the popularity charts.
Or else go to Barista in Sector 11. Chances are that you will find Sunny — a student of Sector 10 DAV College — adjusting the guitar strings before tempting the crowd to trip the light fantastic right there in the coffee bar. Even Chandigarh Engineering College at Landran near Mohali has its own music group.
For these young performers, music is all about playing big. "Gone are the days when student-bands would at the most climb up the stage for performing live in marriage ceremonies. Now, they are strumming and plucking their way into recognition even at the national level," says a singer, Neeraj Sharma.
Adjusting the cords, he adds: You now have more in terms of opportunity because of all the music channels and cassette companies. All you have to do is to get hold of lyrics, and a cassette company, for cutting your own album". Folks, success tune indeed!
— Saurabh Malik