M A I N N E W S
Winning start by India
K. Kumaraswamy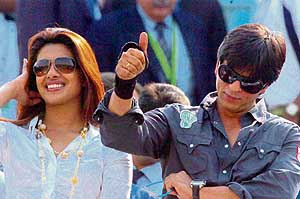 Shah Rukh Khan and Priyanka Chopra watch the Champions Trophy match between India and England at the Sawai Man Singh Stadium in Jaipur on Sunday. — AFP photo
Jaipur, October 15
India relied on a clinical display by their bowlers to launch their Champions Trophy campaign with a morale-boosting four-wicket victory over England in a low-scoring Group-A contest here today.
After the bowlers did an admirable job to bundle out the visitors for a paltry 125 in 37 overs, the home team faced some anxious moments before overhauling the target with 20.3 overs to spare in a floodlit match at the Sawai Man Singh Stadium.
The Indians were cruising along comfortably at 98 for two at one stage before losing four wickets in quick succession to make things a little too tight for themselves. Yuvraj Singh (27 not out) remained till the end as India scored 126 for 6 to notch up the victory as dazzling fireworks lit up the evening sky.
The hosts, who have been going through an indifferent form in recent times, were well served by left-arm seamer Irfan Pathan who buried his own poor form with the ball to spearhead an immaculate bowling performance.
Munaf Patel (3-18) and Ramesh Powar (3-24) complimented Pathan's extended new ball spell of 8-3-20-2 to rout the visitors to their lowest ever total against India.
The evergreen Sachin Tendulkar then guided the chase with a controlled aggressive innings of 35, which came from 41 balls and contained five fours.
The victory was worth two points for India who next face title holders, the West Indies, in their next clash at Ahmedabad on Oct 26.
England await Ashes rivals Australia at the same venue on October 21.
The previous lowest total by England against India was 149 in a world cricket series match in Australia in 1984-85.
It turned out to be a pathetic batting performance with only Paul Collingwood (38) and Kevin Pietersen (27) being the notable scorers for England.
England, who were routed 1-5 in the one-day series when they visited India early this year, showed no signs of having familiarised themselves with the subcontinent conditions.
The 49-run partnership between Collingwood and Jamie Dalrymple (24) for the sixth wicket was the only bright phase of the England innings which ended in 37 overs, before the sunset.
The Baroda left-arm seamer has struggled with the ball for most part of the year, and was dropped from the Test team on the tour of Caribbean in May-July and then from the one-day team in the tri-series in Malaysia last month.
Patel and Pathan combined to rip through the England top order and the visitors never really recovered from 55-5 after 19 overs.
Patel (3-18) provided the opening breakthrough by trapping Ian Bell leg before the wicket.
The innovation of sending captain Andrew Flintoff at number three backfired with the all-rounder registering a blob, Pathan rapping him on the pads while trying to work across the line.
India were off to a flier. Even before the break, they had knocked out 55 of the required runs for the loss of Virender Sehwag.
Sehwag fell for nine but he tore into the England bowling during his brief stay to launch the Indian chase.
The Delhi batsman struck two stunning boundaries, an on drive to midwicket and a typical slash over point, of Steve Harmison who seemed to bowl exactly at Sehwag's favourite area.
Harmison's over cost 20 runs. Sehwag, however, fell in the same over, poking at a wide delivery for a reflex catch by Strauss to end the brief but enterprising innings.
Tendulkar and Pathan, however, sustained the momentum with a rich array of shots on both sides of the wicket.
Sajid Mahmood beat Tendulkar with his pace on a couple of occasions but the wicket never had anything in it to trouble the batsmen.
Scoreboard
England
Strauss c Dravid b Pathan 10
Bell lbw Patel 4
Flintoff lbw Pathan 0
Yardy lbw Patel 4
Pietersen c Tendulkar b Patel 27
Collingwood c Dhoni b Powar 38
Dalrymple c Dravid b Powar 24
Read c Pathan b Harbhajan 2
Mahmood c Harbhajan b Powar 8
Harmison not out 2
Anderson run out 1
Extras (lb-2, nb-1, w-2) 5
Total (all out, 37 overs) 125
Fall of wickets: 1-10, 2-11, 3-17, 4-27, 5-55, 6-104, 7-107, 8-119, 9-124.
Bowling: Pathan 8-3-20-2, Patel 8-2-18-3, Agarkar 5-0-34-0, Harbhajan 8-0-27-1, Powar 8-1-24-3.
India
Sehwag c Strauss b Harmison 9
Tendulkar lbw Harmison 35
Pathan c Pietersen b Anderson 19
Dravid c Strauss b Anderson 4
Yuvraj not out 27
Dhoni c Collingwood b Dalrymple 7
Raina b Dalrymple 0
Harbhajan not out 6
Extras (lb-7, nb-1, w-11) 19
Total (for 6 wkts, 29.3 overs) 126
Fall of wickets: 1-18, 2-68, 3-72, 4-98, 5-119, 6-119.
Bowling: Anderson 7-1-40-2, Harmison 6-0-34-2, Mahmood 8.3-0-30-0, Yardy 4-0-10-0, Dalrymple 4-0-5-2. — PTI