ADVERTISEMENT

CHANDIGARH

LUDHIANA

JALANDHAR
New

DELHI

HIMACHAL PLUS
New

AMRITSAR PLUS

LIFESTYLE
New

BRIDES WANTED

GROOMS WANTED

OTHERS

HOW TO PLACE ADVTS

E - Revolution 2005:
A Two-day IT conclave

Assembly Elections - 2005

Turbans

Chandigarh is 50

EARLIER FEATURES
DIG shot in Orissa
Naxal hand suspected
Rayagada (Orissa), October 23
In the first such killing of a senior official by suspected Naxalites, Deputy Inspector General Jaswinder Singh was today shot dead by unidentified persons at a village in Maoist-infested Rayagada district of south Orissa.

Village mourns death of its son
Tribune Special
BEL developing weapon locating radars
Army likely to test system in Dec
Chandigarh, October 23
Indian Artillery's ability to locate enemy guns is set to receive a boost.

Remarks against Jats to be removed: Arjun Singh
New Delhi, October 23
Human Resources Development Minister Arjun Singh has assured Haryana Chief Minister Bhupinder Singh Hooda that derogatory remarks against the Jat community in textbooks published by the National Council of Educational Research and Training would be removed with immediate effect.



India: The Tasks Ahead
SPECIAL SUPPLEMENT
125TH ANNIVERSARY CELEBRATIONS,
INAUGURAL SESSION
In Education Tribune today

HOROSCOPE
Congress to support Left against RJD
Patna, October 23
In what appeared to be a development with wide political ramifications, the Congress high command is expected to make an official announcement pledging the party's support to the Left and the LJP against the RJD for the coming Lok Sabha by-polls in Bhagalpur and Nalnda.
Romania backs India's civil Nuclear plan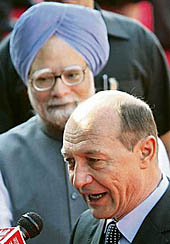 New Delhi, October 23
Romania, a member of the Nuclear Suppliers Group, today supported India's quest for civil nuclear cooperation with the international community and expressed willingness to establish strategic partnership in energy as well as defence sectors.
Romanian President Traian Basescu (front) speaks to the media as Prime Minister Manmohan Singh watches during former's ceremonial reception at Rashtrapati Bhavan in New Delhi on Monday. — Reuters photo
Iran won't budge from N-stand: Ahmadinejad
Tehran, October 23
Iranian President Mahmoud Ahmadinejad said today western powers were wrong if they thought Iran would retreat under political pressure from its nuclear plans, even as the country faces possible sanctions.



Special article: Time for a dialogue
Imrana faces defamation suit
Muzaffarnagar, October 23
In her continued legal battles, Imrana, whose father-in-law was convicted of raping her, is facing a defamation suit filed by her sister-in-law.


Quote
It is a matter of concern that the ISI is trying to infiltrate and subvert our armed forces. We are now hunting down the moles.
— Pranab Mukherjee

Bill on judges' accountability in Parliament soon
October 23, 2006

Government consults CMs on OBC reservation
October 21, 2006

SC upholds quota in promotions
October 20, 2006
11th Plan to target 10 per cent growth
October 19, 2006
India-Pak Foreign Secys' talks on Nov 14, 15
October 18, 2006
SC pulls up government on quota in IITs, IIMs
October 17, 2006
Debate against death penalty picks up momentum
October 16, 2006
UN slaps sanctions on N. Korea
October 15, 2006
Gujarat HC nullifies Banerjee Committee
October 14, 2006
I got offers to underplay: Gibbs
October 13, 2006
Clemency powers: SC warns Executive
October 12, 2006
FIR against Fernandes, Jaya, ex-Navy chief
October 11, 2006