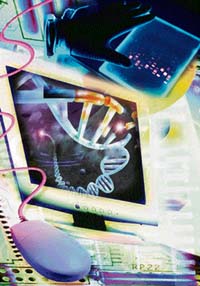 Jump on bioinformatics bandwagon
Sunit Dhawan
TO gauge the extent to which the infant science bioinformatics is going to change our lives, sample this: A patient goes to a doctor to get treatment for some ailment. He hands over his smart data card to the doctor, who swipes it on a device attached to his computer. And lo — the complete genomic make-up of the patient, along with his health record, appears on the computer screen. With the help of this vital information, the doctor can accurately pinpoint the root cause of his illness and prescribe a personalised medicine to remedy it. The days of "one-drug-suits-all" are numbered and an era of designer drugs to suit one's specific requirement(s), besides development of molecular medicine and provision of gene-therapy to remove health disorders and enhance immunity, is knocking at the door.


Cosmetic surgery finds takers among career women
Kavita Bajeli-Datt
Wrinkle removal and botox injections are not confined to the glamour world as middle class women are now willing to go under the surgeon's knife to gain confidence and in some cases, to brighten their career prospects.


Careercature
Sandeep Joshi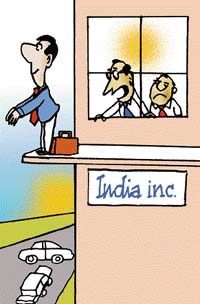 Hey, Stop! When I said, "ready to take risks in this job", I didn't mean this.


Charisma works
Molly Selvin
YOU don't need to golf with the boss to get a raise. Just share a beer. Two economists argue in a study to that social drinkers tend to have more charisma, a fatter Rolodex and more friends than those who abstain or drink alone. That garrulousness, they say, translates into higher income — 10 per cent more for men and 14 per cent more for women.

Smart Skills
Home-based ventures
Usha Albuquerque
Over the past few weeks, shops and markets have remained filled with colourful diyas, candles and gifts of all shapes, sizes and materials. Scented candles, floating candles, silver diyas, bejewelled diyas, dry fruits in colourful wrappings, sweets, chocolates and gift items of all kinds have been flooding the market. Most of these are home-made by those enterprising enough to see the huge business opportunity. The festival season is an excellent time for the home entrepreneur.

Survival strategies as companies change
Patricia Kitchen
It was four years ago that Maggie Mistal and some colleagues at Arthur Andersen had the rug pulled out from under them. They had heard the rumblings about the big accounting firm's difficulties. But that didn't lessen the shock one afternoon as they were gathered at Rosie O'Grady's bar in New York City. The Arthur Andersen logo appeared on the TV with the word "indicted" underneath.


Career Hotline
Well-modulated voice must for newsreaders
Pervin Malhotra
Q I have completed my graduation in commerce stream. However, I am really interested in becoming a newsreader. I am good at communicating and have a deep-pitched and well-modulated voice. Do I need to pursue a course in news reading and does being a newsreader need any qualifications as such?
Mechanical engg diploma prospects

Dental technicians in demand

Wildlife courses

PhD in Forensic Biological Science

Foreign language skills