Cosmetic surgery finds takers among career women
Kavita Bajeli-Datt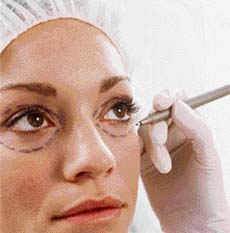 Wrinkle removal and botox injections are not confined to the glamour world as middle class women are now willing to go under the surgeon's knife to gain confidence and in some cases, to brighten their career prospects.
"The trend is changing. Now cosmetic surgery is not restricted to the film and glamour industry. Middle class women, including housewives and receptionists, are ready to go in for a makeover. The focus on appearance has become a major motive behind this move," says Narendra Pandya, a senior cosmetic surgeon who is India's only certified doctor on the American Board of Plastic Surgery.
"If you are handsome or beautiful, one doesn't have to look for a job. The job will come to you. The middle class understands the importance of appearance and we see more and more young girls who want to change the way they look," Pandya told PTI.
While breast enlargement and nose jobs continue to be the commonest procedures, new trends like dimples on the cheek, fillers for the face and mesotherpy to stimulate the skin are getting more popular.
According to R K Khazanchi, a surgeon in Sir Ganga Ram Hospital, the change in people's perception is due to increased awareness.
"I have seen people who are ambitious and want to do well going in for cosmetic surgery. The surgery helps them gain confidence and also improves their self-esteem," Khazanchi said.
Cosmetic surgeons say while most of their clients are women, men have also started showing an interest in procedures offered by them.
"The trend has started to change. Men are also becoming conscious of their appearance," said Singh. "Glamour is not restricted to film or fashion industry. A person working in the IT industry is also conscious of his or her appearance." It is not only the well-heeled who go in for tummy tucks or breast lifts -- even college students are following the latest trends in cosmetic industry.
"If it makes them feel better and more beautiful, then why not? After all everyone wants to become an Aishwarya Rai and what's wrong with that?" Singh says. — PTI