Playing god with science
Dr Rajinder Chawla and Dr Neena Chawla
* Mice used as sperm factories for pigs and goats
* Cloned pigs modified for use in human transplants
* Now mice could have human brain
* First human-animal Chimera created by fusing human cell with Rabbit egg
* Researchers create pigs with human blood flowing through their bodies.
The successful creation of different inter-species (chimeras) animals with tremendous potential for medical and research applications has thrown us in a dilemma. ..….. Are we allowing the life on earth to evolve to such an extent that one day all the animals on earth would be humanised and would carry human organs in them to be used by us, whenever we need.
Pluripotent stem cells, the embryonic or bone-marrow cells that can develop into any kind of cells or tissues, offer the possibility of a renewable source of cells/tissue replacement to treat a myriad of diseases and disabilities including renal and liver failure, Parkinson's and Alzheimer's diseases, spinal cord injury, stroke, burns, heart disease, diabetes, osteoarthritis and rheumatoid arthritis. Therefore, all is well with the stem cell research when scientists are using the stem cells of human or an animal species for research and their application in the same species.
The problem arises when they cross the line — when they start injecting the embryonic stem cells of one species into another thus creating the animals that had cells/organs from two or more species — the so-called chimeras.
Other parallel and equally controversial development is that the scientists have started fusing cells from different species and then cloning them into embryos that have cells with characteristics of both the species.
The first successful creation of chimera came from Evan Balaban, at McGill University in Montreal. He took small sections of brain from developing quails and transplanted them into the developing brains of chickens. The resulting chickens exhibited vocal trills and head bobs unique to quails, proving that the complex behaviours could be transferred across species by making chimeras.
Irving Weissman, Stanford University's Institute of Cancer/Stem Cell Biology and Medicine, developed the first mouse with a nearly complete human immune system — an animal that has proved invaluable for tests of new drugs against the AIDS virus, which does not infect conventional mice.
He followed it up creating mice with brains that are about 1 per cent human. He may conduct another experiment where the mice would be injected with human neurons and could have 100 per cent human brains. Weissman said he's not a mad scientist trying to create a human in an animal body. He hopes the experiment leads to a better understanding of how the brain works, which would be useful in treating diseases like Alzheimer's or Parkinson's.
These chimeras can also be used to test the response of the AIDS virus to new drugs.
Weissman might not be a mad scientist but there could be more than one who can get carried away and allow such mice/animals to live and reproduce. Researchers at the University of Nevada at Reno added human stem cells to sheep foetuses in an attempt to create a reliable source of livers for transplant patients.
Similarly, the Mayo Clinic in Minnesota has developed a line of pigs that have pig blood cells, human blood cells and hybrid (pig plus human) blood cells.
Humanised animals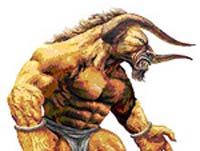 The most radical experiment, still not conducted, would be to inject human stem cells into an animal embryo and then transfer that chimeric embryo into an animal's womb. Scientists suspect the proliferating human cells would spread throughout the animal embryo as it matured into a foetus and integrate themselves into every organ.
Such "humanised" animals carrying organs that have human characteristics, could have countless uses. They would almost certainly provide better ways to test a new drug's efficacy and toxicity. The risk is that some human cells will find their way to the developing testes or ovaries, where they might grow into human sperm and eggs. If two such chimeras, say mice, were to mate, a human embryo might form, trapped in the body of a mouse.
As defined above, a chimera is a cell / organ or individual having mixture of two or more species in one body. The word traces its origin to the mythical Greek monster with a lion's head, goat's body and serpent's tail.
Not all chimeras are considered controversial: Most twins carry at least a few cells from the sibling with whom they shared a womb, and most mothers carry in their blood at least a few cells from each child they have borne. Faulty human heart valves are routinely replaced with ones taken from cows and pigs, the surgery which makes the recipient a human-animal chimera. Scientists have added human genes to bacteria and farm animals, a whole range of pharmaceutical products (e.g. human Insulin) are routinely manufactured in bacteria by inserting the required genes into the bacterial cells.
Chimerism becomes a more sensitive topic when it involves growing entire human organs, especially brain, inside animals. What has caused the uproar is the mixing of human stem cells with embryonic animals to create new species.
Many philosophers have been wrestling with the question of why so many people believe it is wrong to breach the species barrier. Does the repugnance reflect an understanding of an important natural law? Or is it just another cultural bias, like the once widespread rejection of interracial marriage?
Many turn to the Bible's repeated invocation that animals should multiply "after their kind" as evidence that such experiments are wrong. Others, however, have concluded that the core problem is not the creation of chimeras but how are we going to treat them. If we did enhance (?) the status of a "chimpanzee" to "humanzee", the animal is certainly not going to complain.
During one recent meeting, scientists disagreed on such basic issues as whether it would be unethical for a human embryo to begin its development in an animal's womb, and whether a mouse would be better or worse off with a brain made of human neurons. But with no guidelines in place in most of the countries, an awkward question hovers above the work: How human must a chimera be before more stringent research rules should be applied?
Human being is the only species in the history of life on earth that is aware of evolution — not only the continuum of evolution but also its characteristics and mechanisms. We are not the only species that has knowledge about evolution, we are the only species that can control, modify and give direction to the forces of evolution.
By conducting such research to put more and more human characteristics into the animals, are we trying to push the evolution on a turbo jet plane? Does being the master of the world species not put a great responsibility on being human?
Dr Rajinder Chawla is Professor of Biochemistry, Black Lion Hospital, Addis Ababa, Ethiopia. Dr Neena Chawla is Biochemist, Punjab Agricultural University. Ludhiana.