10 lakh bank staff go on strike
Tribune News Service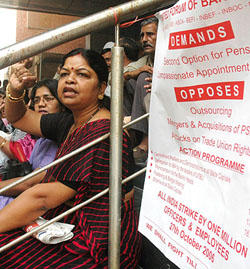 Bank employees under the banner of United Forum of Bank Unions sit in dharna to protest against the anti labour policies of the central government during the nation-wide strike at Parliament Street in New Delhi on Friday. — Tribune photo by Mukesh Aggarwal

New Delhi, October 27
Banking and financial market operations across the country were hit today with over 10 lakh bank employees representing public, private and foreign banks going on a daylong strike against government's bank reform measures.

The United Forum of Bank Unions (UFBU), an umbrella organisation of nine different trade unions of bank officers and employees, had called the strike in protest against government plans to merge state-owned banks into a consolidated entity, outsource many of the non-core activities to private parties and impose an embargo on permanent appointments in non-essential banking areas.

Meanwhile, Finance Minister P. Chidambaram, and Minister of State for Finance Pawan Bansal, who is looking after the banking sector, were not in the Capital to speak on the issue.

In New Delhi, more than 1,000 employees cheered speeches and chanted slogans on the wide front staircase of the main Parliament Street branch of the State Bank of India.

"We are certain that good sense will prevail," said Mr V.K. Gupta, senior vice-president of the All India State Bank of India Staff Federation.

"If it doesn't, if (the government) does not do what it should, then we are left with no alternative but to go on indefinite strike," he told reporters.

He said the government had been told the unions would take that decision 15 days from now.

The strike was more widespread than one in July as it included

200,000 staff of the country's largest lender, State Bank of India group.

Many private sector banks such as ICICI Bank and foreign banks such as Standard Chartered Bank were functioning normally as fewer of their staff were union members.

The Indian Banks' Association said the banks were not expecting the strike to cause them much financial loss.

The unions are also opposing the Finance Minister's call for mergers among the 27 state-run banks so they can compete with global giants such as Citigroup and HSBC Holdings, which are growing fast in India.

The unions also oppose proposals to cut government stakes in state-run banks to 33 per cent from a current minimum of 51 per cent.

The UFBU is also seeking fresh recruitment to over 100,000 posts that have over the years been filled on contract basis.