Private colonisers ignore quake threat
Despite Chandigarh and its surrounding areas falling in a seismic zone, builders are not adhering to the safety guidelines of the National Building Code 2005, says Rajmeet Singh
Rate hike to prick housing bubble, says RBI
Ahead of its quarterly policy review, the Reserve Bank has expressed doubts on the efficacy of "pre-emptive" raising of interest rates to prick a housing bubble.


Malls with a new dimension
With the popularity graph of malls and multiplexes soaring northwards in Punjab several new projects have been lined up by different companies. However, the stress now seems to be on futuristic theme-based malls so that the footfalls do not ring hollow at the cash counters.
A sketch of Silver Arc coming up on the Ferozepore Road, Ludhiana.
Netting a house through the Net
In real estate the only factors that really matter are location, location and location, claim experts. After all, it is the location of a particular property, which decides its price, premium, buy-ability, future potential and saleability.
A bathroom is a room too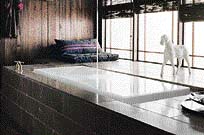 Bathrooms are getting a lion's share of the housing budget, with accessories like bathtubs costing as much as Rs 6 lakh, says Sheveta Pathak
As emphasis on interiors continues to grow, bathrooms too have not been left behind. The result is not only increased detailing but also higher expenditure on bathroom 'essentials and accessories' like bathtubs.
Vipul Infrastructure to invest Rs 5,000-6,000 crore
New Delhi-based Vipul Infrastructure Developers Ltd, which had developed Global Business Park and Millennium Plaza (in partnership with Unitech) in Gurgaon, will invest Rs 5,000-6,000 crores in real estate projects in various states, in the next 3-4 years.
Courting harmony with Vaastu
Design techniques have undergone rapid transition due to the belief that the commercial age requires a different architecture from that of Vedic era. The mass housing compulsions in cities and towns of the present day human settlements in the shape of complexes, blocks and skyscrapers, have resulted in man losing his individuality and identity in the rapidly spreading concrete jungles.
Tax on relinquishment of right
Q. We would like to address our query on possible capital gain to your expert panel on taxation in relation to out-of-court settlement the details are as under:

Prices crash around scam-tainted Ludhiana City Centre Project
The real estate boom around the City Centre Project - the fourth biggest project in the world - in Shaheed Bhagat Singh (SBS) Nagar in Ludhiana has gone bust with the exposure of an alleged scam in the project deal.


A view of the Ludhiana City Centre Project. — Photo by Sayeed Ahmed
RBI tightens lending norms for housing
Banks say the housing loans have become unvisible at the current rate of interest because interest rates on home loans are not keeping up with the rising cost of funds.
DuPont India forays into construction products biz
Services Company DuPont India has launched a business initiative to provide building solutions to the domestic construction industry and said it is eyeing a $ 20-25 million business by 2010 from its building and construction segment in India.
Parsvnath's IPO to raise $220 million
Real estate firm Parsvnath Developers Ltd. has set a price band of Rs 250-300 a share for its revived initial public offering which could value the company at up to $1.2 billion, banking sources said recently.