Movie making in Punjabi is certainly picking up. And, the small time fly-by-night producers are being fast replaced by professionally run production houses that are capable of financing medium to big budget movies.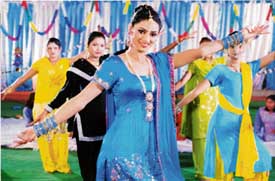 A still from Wagah
The latest addition is Wagah, a flick that deals with contemporary issues in the state. The narrative is woman-centric and deals with issues related to women.
The protagonist is a widow who strives to help various stricken women. On the one hand she strives for Indo-Pak amity and on the other hand she struggles to eradicate such ills plaguing the Punjabi society as exploitation of widows, desertion of wives by NRIs etc.
The star of the movie is Kashish who has already gained national exposure by acting in Zee TV's soap Piya Ka Ghar, and also playing lead roles in such Punjabi productions as Apna Punjab and Sirnavan on Alpha Punjabi.
The male lead is being played by Dalli Khan. Sudesh Lehri plays a mentally challenged rustic in the film. Meanwhile it remains to be seen whether the movie lives up to its evocative name when it is released on November 17.
What is the done thing when a television programme is cancelled or postponed? Naturally one expects suitable announcement on the channel at convenient intervals as a courtesy to the viewer.
The ETC-Alpha Punjabi twins do not appear to believe in such mundane gestures. On October 14 one switched on the TV with great expectations. After all it was to be live telecast of Miss Zee Punjabi-2006 finals.
Moreover, it was supposed to give leg up to the campaign against female foeticide in the region. But all one got to watch was recorded songs with ads stretching to hours. One waited, given the notoriety of the channels in not sticking to announced schedules.
When more than two hours passed it became necessary to contact the channel's head programmer Mukesh Gautam. All one got was a terse reply, "postponed to October 18".
Fortunately, the show was telecast on the 18th. Unfortunately, it was tepid. But the visuals were good. The performances were average.
Fortunately Satti got less time to fire verbal fusillades. Unfortunately there was only lip service to the girl child killed in the womb. But at least the media did pay the lip service. Thank God for small mercies.