Bollywood calling for Nitika
Model and former Femina Miss India Universe Nikita Anand is all set to star in Prakash Jha's love flick, says Vimla Patil
Nikita Anand, who was Femina Miss India Universe 2003, has just acquired a brand new feather in her cap. The energetic beauty has been signed by director Prakash Jha, (maker of films like Mrityudand, Damul, Gangajal and Apharan together with numerous award-winning documentaries) for Love Story. Nikita's hero in this film is Shreyas Talpade, who made an impact with his superb debut in Iqbal.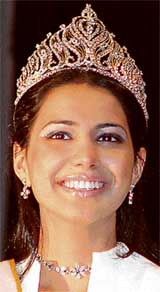 "This film is perfect for my debut," says the excited Nikita, who bubbles as she talks about her entry into Bollywood, "I play a student at Delhi University, where Shreyas (Sanjay) is a Bihari hosteller and student politician, vying for the student union president's position. I am the opposite of this persona, because I am a glamorous rich student and model called Prerna Heerjawahar, who is strong-willed. Strangely, I get paired with the conservative Sanjay. The film also stars Imaad Shah, son of Naseeruddin Shah, who plays Apurv, a city slicker who is always on the lookout for women — ranging from college girls to prostitutes — to romance."
According to Prakash Jha, Love Story is designed as a sensitive film that revolves around the emotion of love, which makes the world go round. Films on this subject, he says, have shaken the world time and again and created huge box-office successes in Bollywood. Love brings hope and joy to people. The film is narrated by Imaad Shah in a flashback. It explores friendship, romance and shades of black humour that lead to the maturity of the hero from a young adult to a mature man.
Nikita, with her army background and upbringing in Delhi, says she is comfortable with the role of the glamorous model.
"I won several local beauty contests before I became Femina Miss India Universe 2003," she says, "I learnt the discipline needed for becoming a star long before my debut. As a student, I modelled for several ads and was auditioned by several leading agencies for television commercials. I was brand ambassador for the Hyatt Hotels and modelled in the Wills India Fashion Week and for designers like Satya Paul, JJ Valaya and Ritu Kumar. The chance to act in a film came as a progression after all this. I am happy to be a part of Bollywood and hope to make an impact as an actress in the first film I make. I am here to realise my dreams. I believe that those who have no dreams, have nothing."