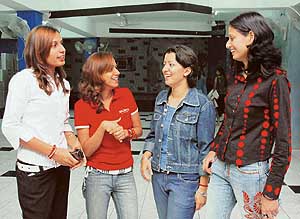 Balancing Act
The Protection of Women from Domestic Violence Act comes as a breath of fresh air in this choking scenario of the Indian marriage that demands too much from the woman, says Anandita Gupta
Scene1: Standing tall in the plush lobby of a Chandigarh hotel she works in, chief HR manager Sunanda Buddhiraja is heard chiding a junior executive over poor attendance. A thorough professional with round- the-clock working weeks, Sunanda seems like a perfect picture of the new-age woman at work —confident, assertive and self-assured.
Her money is Her's
Women now have the right to spend their own money their own way and husbands are legally bound to accept this fact, says Saurabh Malik
She shares her emotions, but not her money with him. Neerja Sharma's cash-rich husband Raman Sharma knows almost everything about her but for her finance. The little entrepreneur, running her own boutique from a house in Sector 35, does not believe in the holy wedlock of bank accounts.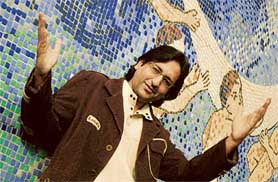 His lucky number is 13
Jagmeet Bal, the whiz kid of Punjabi music video world, is a man of many talents, says Parbina Rashid
As you watch Bali Brahmbhatt crooning undying love on behalf of some young man running after a mirage, sitting right next to its creator Jagmeet Bal, it is difficult to ascertain what is Jagmeet's strongest point – his technical know-how, his romantic streak or his sense of humour.
Dream fire
What makes an actor? Think fire! No, not a bonfire, but that flaming will in the belly to make dreams come true. And young aspiring actor Pooja Tandon has been determined to blaze with her pretty sea-green eyes, ever since she was a little girl. Pooja calls it 'being adamant' and today her unwavering resolve is about to bear fruit.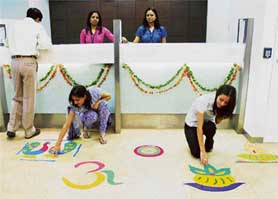 Flair@banks
Private banks in Chandigarh are offering interests on talent by holding drawing and Rangoli contests, along with exhibitions, says Saurabh Malik
Private banks and financial institutions across the city are paying more than just interest on the deposited amounts. They are, in fact, taking keen interest in withdrawing the best out of the residents in terms of talent for safekeeping it in the lockers of memories.
COOL STUFF
Autumn winter range arrives
Cantabil launches new range for winters for men with its range of shirts, suits, blazers, jackets, sweat shirts and trousers. Shirts in yoke styles, placket variations, and pocket and flap styles. The range uses fabric from Montey Mill, Italy for the formal range. The range also offers, cotton, nylon, polyester, suede, corduroy, denim and artificial leather jackets. Sports wear range uses knit material with closest color combination.
Food of love
Have you ever got a hug from a chocolate? No, this is not a quirky story from 'Ripley's Believe it or Not'. Just follow our advice, take a piece, pop it into the mouth and let it melt on the tongue, slowly and gently, into gooey splendour and ah nothing, absolutely nothing can be this satisfying! (Okay maybe a hug from John Abraham would come close!)
Art of Living
No, I will not tell you to go through the deliverance of the immaculate white dressed Mr Ravi Shankar. Neither will I advise you to follow those holy scripts. There is another but easy method — an art of living in which one does not have to spare out time and can do it while doing one's daily chores in comparatively lesser time. It is basically an art that helps you to live than exist, the real art of living.
Bargain delight
In Chandigarh , you can actually savour hot scrumptious foodstuff at a good joint without burning holes in your pockets, says Saurabh Malik
Inexpensive and scrumptious "bargain" foodstuff is offering good deal to the residents like never before. Easy on the pocket, and digestion, it's tickling their taste buds, delicately. And its not just pizzas for as less as Rs 45 that the food lovers are going in for! They are also ordering sizzling burgers and noodles without burning holes in their porous pockets.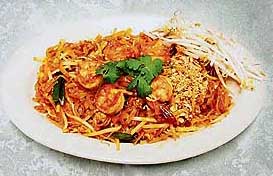 BON APPETIT
Thaisome
Gang Gai, Pad Thai, Nam Budoo Song Kreung, Grajiab Tod, Fug Tong Gang Bhad, Tom Yum Goong- only a few years ago, these names of Thai dishes sounded like double Dutch, no, double Thai to me! Allow me to confess here….they still do! Somehow, they bring to my mind an annoying temple gong gone awry.
New singer on the block
It takes talent to spot talent, recognise it for its worth and to nurture it to a form that it can express itself in all its glory before the world. The magician of music with a Midas touch has now done it again. Jawahar Wattal, the man who has a record of producing not only quality music but also one Star after another now weaves his magic once again.


Surinder Khan mesmerises audience with soulful Ghazals
It was an evening of musical delight for those who visited Craft Mela at Circus Ground, Sector 17, last week. They had the opportunity to listen some of the most popular and soulful ghazals of maestro Ghulam Ali from a person who has been hailed as Junior Ghulam Ali. City boy Surinder Khan created the magic by rendering ghazals like Chupke-chupke raat din and hungama hai kyon barpa and showed complete mastery over the intimate surs for which Ghulam Ali is known.

Surinder Khan recreates magic of Ghulam Ali's famous ghazals.
Film & Fashion
Cruise back in demand
It seems Hollywood hunk Tom Cruise never had it better, for even after being dumped by Paramount pictures this summer, the actor is not short of work. According to Variety magazine, the actor is considering doing two Hollywood blockbusters as well as a smaller art house flick.
---