'art & soul
THE FINE ART OF DECEPTION
There is scarcely a major museum in the world, which has not, at one time, or another, acquired a fake. It would seem that not all art is truth, writes B. N. Goswamy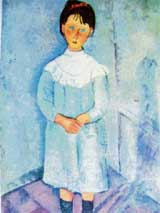 "Little Girl in Blue" by Amedeo Modigliani. Private collection, Paris

In the context of increasing concerns about faking in contemporary Indian art—stories about frauds are floating around by the dozen in art circles—consider these rather chilling facts. In an informed article in the New York Times, it was stated recently that depending on the period and the artist, between 10 and 40 per cent of paintings for sale at any one time are fraudulent, or so over-restored as to make them the equivalent of fakes. Thomas Hoving, former director of the Metropolitan Museum of Art, stated that during his tenure as director, 40 per cent of the artworks considered for purchase by the museum were fraudulent or over-restored.

Some experts say that 60 per cent of the Swiss artist, Alberto Giacometti's paintings on the market are open to doubt, and 40 per cent of paintings from the Russian avant-garde era are almost certainly forgeries.

There is scarcely a major museum in the world, which has not, at one time, or another, acquired a fake, all the available expertise notwithstanding. It would certainly seem that not all art is truth.

Three fake Mona Lisas have been made and sold. The Tate Gallery in London discovered that their archives were tampered with and false documents inserted to "prove" fake works. Just recently, the Italian police uncovered more than $10 million worth of fake art sales. "It's a nightmare", says one leading dealer, James Roundell. Such is the lure of money that just about everyone appears to become involved: from gallery owners and art experts to art historians and heirs of artists. Sometimes even the artists themselves.

Why am I making this murky field the subject of this piece? Because a small notice in a recent issue of The Art Newspaper caught my attention. It was about Modigliani fakes, nearly 1,000 of which appear to be circulating in the market at the moment. This wonderful Italian painter and sculptor who led a dissipate life—it is said of him that he created and destroyed himself at the same time—till he died in 1920 of consumption at the young age of 36, appears to be a favourite as far as faking is concerned.

For two excellent reasons. One, because he is much loved as an artist not only for his melancholy portraits and languid nudes, but also for his exquisite sense of colour. And, two, because his work, especially his drawings which consist of just a few lines, is easy to copy: frontal faces with wistful expressions, long necks, eyes either out of alignment or as if covered with a film.

The one man who turned making Modiglianis fakes into an industry was the Hungarian aristocrat, Elmyr de Hory, one of the last century's most celebrated forgers. To write about de Hory would claim much space—I might return to him another time—but in his dubious enterprise of pushing Modigliani fakes this gifted forger had uncommon assistance in the form of the circumstances of Modigliani's life. The drug-taking alcoholic artist led a classic Bohemian lifestyle, constantly moving as he was from woman to woman, and sometimes from house to house handing out drawings to pay his debts.

There is no clear record thus of what he made, and where his works went. His mistress, Jeanne Hebuterne, committed suicide the day after the artist's funeral, at which dealers were, according to one of Modigliani's biographers, already bartering with the mourners for paintings and drawings. The family situation was a disaster, and it is of this disaster that advantage was taken. Provenances were fabricated, fake documentation created for Modigliani 'originals'.

But there is more to the matter than this. Enter the 'experts' and the 'art historians'. The Art Newspaper article that I refer to speaks of a court in France authorising the search of the archives of a museum in Paris. This because some 'Modiglianis' with faked signatures of the artist had turned up at some auction and one of the persons suspected of 'authenticating' these— Christian Parisot—had given the museum's address as his own. For years, Parisot and a former colleague, but now a rival, Marc Restellini, have been battling it out as far as Modiglianis are concerned.

M. Parisot claims he has the right to authenticate the artist's work, conferred on him by Modigliani's daughter. M. Restellini on the other hand stated publicly that 80 per cent of the works in a 'Modigliani' exhibition curated by Parisot were fakes. A battle royal has been going on between these two 'experts'. The preparation of a catalogue of Modigliani's complete oeuvre, in which a Paris institute has long been interested, has become one of the most controversial subjects in the field, for nearly everything is contested. It is a major minefield. The stakes are high, and enormous amounts of money could be involved. At a recent sale, one Modigliani painting went for $11 million, and a drawing fetched some 500,000.

Every now and then someone makes an attempt to lift the veil from the world of faking, a world of smoke and mirrors. Several studies on fakes have been undertaken; case studies have been published; scams and scandals have been exposed. In a show, "Fake or Not Fake", a small museum ventured to draw attention to the darker side of art restoration in the 20th century when some great craftsmen stepped beyond the entrusted task of retouching works and succumbed to what is called "hyper-restoration", a polite term for sheer fakes. But nothing, studies and all, seems really to succeed. Merrily, faking goes on everywhere. For it all comes back to money in the end.

As the faker de Hory said once, the forger's greatest ally is greed.