Useful reckoner for journalists
Media and Law
A Reporter's Handbook
by Swati Deshpande. Published by AMIC-India and Unesco. Pages 206. Rs 50
The book could not have come at a better time, because it is needed in the scenario where the focus is on breaking news, sometimes at cost to professionalism. That the writer, the legal correspondent of The Times of India for seven years has put her experience to good use is apparent. The book attempts to give journalists from print and broadcast media, some insights into relevant laws and intricacies of the vast legal system. Also made available are practical guidelines on some issues as they venture to break news, cover events, political and social developments, investigative reports and in-depth coverage. The writer had to pore over law books, websites and hound lawyers to explain the intricacies of law. This handbook refers to basic definitions and ingredients in law that people in the media and the ordinary citizen may like to be aware of. The first part of the book deals with the relevant laws, while the second part dwells on various Acts, guidelines to journalists and international conventions.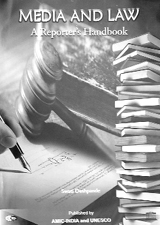 Cutting through the swathe of complicated legalese and longwinded jargon, Deshpande seeks to make law reader as well as user-friendly. It is a daunting task that she performs with dexterity. Terms such as amicus curiae, ad-interim, concurrent sentence are explained in a lucid language. A useful compendium has been provided for a reporter who wishes to know the simple meaning of a difficult phrase. The handbook covers the Copyright Law, where it explains concepts such as 'fair use' and 'moral rights of the author.' Journalists are known to have a brush with the law of defamation. The writer offers a solution, "While working on an article if the reporter feels publishing it risks bringing legal action for defamation, contact the law officer. A freelancer could contact a lawyer.
The section on FAQs which should give answers to many queries that struggling reporters have. While browsing through the guidelines of the Press Council of India, one cannot help thinking how in the present scenario, they are observed more in the breach than in adherence. The book is relevant especially given the cut-throat competition within the print and electronic media and between them both in a race for readership/viewership. How often have the channels kept in mind not to intrude in moments of grief and not show lacerated bodies? Even the need to practise restraint while levelling allegations and labelling people in public life is often given a go by.
Brought out by the Asian Media and Communication Centre of India, it is invaluable for all those connected to the media. Recommended reading, list of books and websites to be consulted and the bibliography. shows the rigorous ground work put in by the writer.
The book is a must read for students of journalism and working journalists of the print and electronic media as well as all those connected to the media. — A.N.