HINDI REVIEW
Last of the titans
Ashok Malik
Poochte hai vo ki JP kaun hai by Dr Chandra Trikha.
Yugmarg Publications, Chandigarh, PP ix+117, Paperback. Rs 150.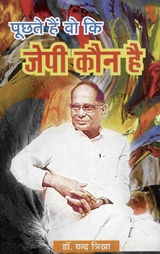 That the acclaimed hero of the Emergency is becoming a forgotten "JP who?" for the 20-something young men and women of today is enough to shock any witness to that era. Jayaprakash Narayan, who as a poor student in Chicago had to sell fairness cream to take care of his expenses, rose to dizzy heights in the Indian political firmament. He was a selfless freedom fighter in Gandhi's mould but his role as a leader of independent India makes JP even more memorable. Though he left active politics without ever holding public office, for many years he was considered prime minister material and a potential successor to Nehru. He who could have become Prime Minster or President of the Republic never aspired for public office and was content to live like an ordinary Indian in his house in Patna.
JP was a socialist who was not enamoured either of Western socialist dogma or of communism. As a campaigner for Vinoba Bhave's Bhoodan movement and in getting thousands of dacoits of the Chambal region to lay down arms, he showed his commitment to social reform. Many years later, after death of his wife Prabhawati in 1973, he decided to launch a "total revolution" movement to involve the youth of this country to hasten the process of development. Initial successes of the JP movement gave jitters to the ruling establishment and led to imposition of the Emergency. His role in the battle against the despotic Emergency regime of Indira Gandhi made him the tallest mass leader in the country. If India is a free, vibrant and dynamic democracy today, a major part of credit goes to JP's selfless role. He may be called a modern-day sanyasi, committed to common good of the society at large, who even after renouncing politics, was prepared to take up fight with the mightiest without caring about his own well-being.
Chandra Trikha, who met the Lok Nayak thrice and had two long conversations with him, has recorded his impressions of JP in this volume. Giving a rationale for another book on this much-chronicled leader, he says people like JP, who was far ahead of his time, need constant re-evaluation. He refutes the commonly held notion that JP was a failed leader and instead reminds that no government since the Emergency has tried holding on to power after losing an election. A leader should be judged by the touchstone of his objectives. Pakistan President Field Marshal Ayub Khan's wish that "Pakistan should have had a few people like JP" vindicated JP much before he came to be the defender of democracy.
If the poet-journalists' narration looks somewhat unstructured at times, we must remember that this is an emotional book, written as a reaction to the query by some students' in a journalism class, "Who was JP". That the quality of Hindi books can be improved by using the services of editors and proofreaders is evident at places.