Food talk
Southern comfort
This is a khichadi with a difference. Pushpesh Pant unravels the taste of keema-khichadi which is a gourmet's delight.
The adage tells us that 'In Rome do as Romans do'; who are we to argue in the face of time-tested wisdom? When our host in Hyderabad mentioned that keema-khichadi was the preferred breakfast in the old city, we lost no time in making it clear that this was exactly what we wished to begin our day with.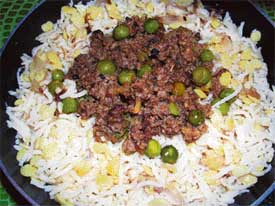 One must confess that initially the combination sounded a bit odd. Khichadi, one is conditioned to believe, is prescribed diet (read bland and revolting) for the aged, infirm or convalescent and, is commonly paired with kaleji- shaleji. Our butcher in Vasant Vihar had shared with us the mouth-watering non-vegetarian shoala kihchadi brought from home but that—eaten with a roti—belongs to a different genre altogether.
For the tasting sessions our friends escorted us first to "Medina", an old eatery nestling under the shadow of the historic Chaar Minar, and then to "Shaadaab" across the road—a more comfortable place with an affordable restaurant-like ambience to obtain a 'comparative frame'.
The khichadi and keema were served separately and we were told that we could help ourselves to as much we wanted and consume it like daal chaawal. The keema was spiced much more delicately than it is in the North but the khichadi was not very impressive.
It was not until our childhood friend Munnu (Publisher Atul Rai from Allahabad), a fantastically gifted cook and epicure par excellence, introduced us to arhar ki khichadi dished out with a plate of keema that we were finally seduced by the dakhani combo delight. With a little dahi and green salad on side it makes a wonderful brunch.


KEEMA KHICHADI
Ingredients
Minced mutton 300 gm
Green peas 150 gm
Tomatoes (diced, optional) 100 gm
Medium onion (sliced fine) one
Garlic paste 1 tbsp
Ginger paste 1 tbsp
Red chilli powder `BD tsp
Dhaniya powder `BD tsp
Peppercorns `BD tsp
Cinnamon 1 inch piece
Black cardamom one
Cloves two
Bay leaf one
Oil 75 ml
Salt to taste
For khichadi
Rice (picked washed and
soaked in water) 200 gm
Arhar dal (soaked in water) 100 gm

Method
Put the rice and arhar dal to boil in a pan of salted water. Cover and cook till desired level of dryness is obtained and the khichadi is done. Ideally, the lentils should retain a little bite and the grains of rice should be separate. In a different pot put the oil to heat and when it reaches boiling point put in the bay leaf, cloves, cardamom and cinnamon. Follow this with sliced onions and stir-fry till onion slices are translucent. Then add garlic and ginger pastes with spice powders and continue to stir fry for a minute, then put in the mince and fry till well browned. Now put in the salt with the peas and the tomatoes and continue to cook on medium heat till done to taste—sprinkle a little water if required; alternatively, pressure cook. Garnish with green chillies and chopped hara dhaniya.