Big B as Salman's godfather
Shinie Anthony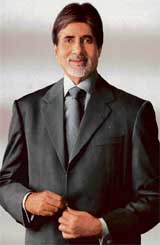 From star cast to technicians, writer-turned-director Rumi Jaffery says he took "all those who love" him in his first film, God, Tussi Great Ho, which stars Amitabh Bachchan, Salman Khan and Priyanka Chopra. "This is my first film and it comes straight from my heart, so I took all those in the industry who love me. From actors to technicians, the film is full of my friends," Jaffery said.
"The film is an out-and-out comedy with a universal message on humanity and nature," added Jaffery, who has written dialogues for hits like Mujhse Shaadi Karoge, Chalte Chalte and Jodi No. 1.
Does the Big B play god in the film? "No, no. People say that because there is 'god' in the title. Amitabh actually plays Salman's godfather," said the debutant director.
"In the industry I am closest to Salman. He is like a brother to me. Amitabh used to keep telling me to make a film and that he'd act in it. Sanjay Dutt and Govinda, too, have been very encouraging that I make this move from scripting to directing," he said.
Which of his own scripts find favour with him? "My own favourite scripts are Chalte Chalte, Aa Ab Laut Chalen and Rang, which was made 15 years ago with Divya Bharti in the lead," he said.
And how goes the shift from writing screenplays to directing? "Basically I am a writer. Writing is what I began with. But I find I am enjoying direction, too. Earlier I used to watch somebody else shoot what I have written. Now I shoot what I write and that is fun." Though Jaffery is busy tying up the last-minute loose ends of his debut film, he did take time out to watch Lage Raho Munnabhai.
"The film is just great. I watched it before its release and I am still drunk on it. Lage Raho... has a fantastic message and I am happily playing PRO for it," he said. God, Tussi Great Ho is expected to hit the screens early next year. —IANS