Ulta pulta
Gifted people
Jaspal Bhatti
Nobody is immune to the joy of receiving gifts. Only a hypocrite will wrinkle up his nose and pretend he doesn't like receiving gifts. Divali is over and it is time to wrap the gifts.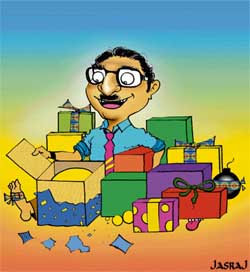 People who receive few gifts take only half an hour to open their gifts. But those in powerful positions in the government or in the media take weeks to open all the gifts they have received.
I asked a peon in the Secretariat, "Sahib kahan hai?" He said, "Sahib has taken leave to open the gifts."
"Arre yeh to wohi gift hai jo hamne Gupta sahib ko diya tha" is the most common refrain one is likely to hear during the gift-opening week. The Guptas gift the Sharmas and the Sharmas send the same gift to the Sandhus and the Sandhus send the same gift to the Guptas. So the gift goes full circle.
Sending chocolates or sweets to the "bada sahib" may not only be bad for their health but also for your career. A senior bureaucrat could blacklist you permanently if you happen to send him a box of pastries as Divali gift. In such times gift consultancy shops could soon crop up giving you the information and feedback on each officer and the choice of gift he would like to receive.
Once a man went to a gift shop and asked the salesman what kind of gift he should select for his wife. The shopkeeper looked at the very ugly man and asked, "Does your wife really like you?" The man said, "Of course!" The shopkeeper said, "Take any gift then. If she can like you, she will be happy with anything."