Star trek
The new brigade of city-bred actors acknowledge the fact that being a Chandigarhian makes all the difference to their persona, says Anuradha Shukla
Glitz, glamour and the razzmatazz, the world of show biz has for long beckoned Punjabis. The city beautiful has many names to claim to fame in the Mumbai film world and the recent brigade of young actors from the city and around is only reinforcing the charm of the Punjabi spirit is forever ready to disarm the audiences on the silver screen time and again. The city is making its presence felt with the list of these stars growing.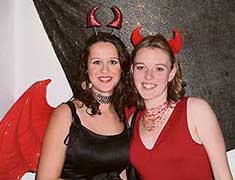 Halloween Hungama
With Halloween just round the corner, city youngsters are getting ready to decorate their houses and for dancing to the tunes of spooky music during so many costume parties being organised in the city, says Saurabh Malik.
Thumping beats of reverberating music booming out of the overhead speakers are all set to charm Plus-two student Simmi Kapoor into dancing. Right, to the Halloween tune on the polished dance floor of life in a discotheque illuminated by nice little psychedelic lights! Guys, just in case you are not aware of the great dancing reality, Sector 21 resident Simmi is all geared up to slip into her stilettos and letting her hair down for boogieing the afternoon away on the Halloween this Tuesday.
Gift-wrapped!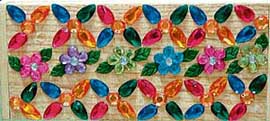 Imagination with style is the buzzword for as gifts, letters, trousseaus and even events come wrapped in colourful bows, packaging as trend is all set to reach an all-time high, says Gayatri Rajwade.
Raindrops on roses and whiskers on kittens Bright copper kettles and warm woollen mittens Brown paper packages tied up with string, These are a few of my favorite things. This unparalleled feel-good ode to life from the classic Sound of Music relies on the enchanting power of imagery and indeed it is the 'visual' that counts.
HOT WHEELS
Death of a dream: The Yamaha-RD350 story
If ever a thesis on the Indian two-wheeler market is written, the legendary Yamaha-RD350 would definitely find a bold mention, and only then would the bike, whose speed, 'voice', overall built will rest in peace, satisfied that it was crucified for all the wrong reasons, one being that it was way ahead of its times.
WRITE TO RENE
Be happy, have a life
I am a 28 year old woman, married for the past seven years having two children both going to nursery school and I have enough time to think about which way my life is going. I would really love to go back to college where I left off to get married and start working somewhere. I see lots of girls my age still studying or working and having a life of their own.
BEAUTY STUDIO
Let the make-up flow
These are three distinctive groups be it the party, shy, sporty look, which I categorise women make up styles into can be mixed and matched. Experimenting with make up is how an individual can achieve her personal style. The make up should not overshadow your personality. Be prepared to stand out!
MATKA CHOWK
Divali Mela(ee)
I was on my way back home on Friday evening – after a speedy purchase of a few quick gifts at Sector 17. I thought it was a miraculous getaway for me that my car was not double-parked and that I managed to leave the fountain with all my limbs intact.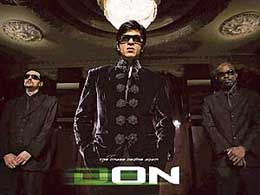 FUN WITH FASHION
Who's that??? Don…
Like every consecutive year, this year's Divali too saw many a firecrackers piercing the skies—their colourful, sprightly sparks flying off high. However, what flew higher than these festive sparks were the sparks of anticipation. For, sweeter than all that 'mithai' and chocolates exchanged this Divali, was the joy of seeing King Khan trying to fit into the ever indisputable Big B's shoes (wearing those much hyped Oakley shades and Tag Heuer watch, of course). Girls, guns and gadgets— are the fancy frills that accompany the twisting and turning thrills in the Rs 40 crore slick, stylish update of the 1978 Amitabh Bachchan starrer Don.
---