Gift-wrapped!
Imagination with style is the buzzword for as gifts, letters, trousseaus and even events come wrapped in colourful bows, packaging as trend is all set to reach an all-time high, says Gayatri Rajwade



Photo by Manoj Mahajan
Raindrops on roses and whiskers on kittens Bright copper kettles and warm woollen mittens Brown paper packages tied up with string, These are a few of my favorite things.
This unparalleled feel-good ode to life from the classic Sound of Music relies on the enchanting power of imagery and indeed it is the 'visual' that counts. But today simple images are becoming passé.
The buzz is no longer about brown paper packages as swirling ribbons, paper roses, buttons and bows, satin, silk and gauzy gossamer takes the stand.
Hurrah for the wrapping for you, my dear, are judged according to how swishy your packaging is, never mind the value of the gift inside!
Inviting Concepts
Put your finger up in the air Red-Indian style—which way does the breeze blow? Follow the winds of trend to 'Juneja Design Studio' in Sector 17 where bits and baubles, funky boxes, pink and lavender, light blue and sea green paper festoon the walls. Right from wedding invite concepts to parties to trousseau and corporate packing to even the text and lettering on your fit, card, whatever, is done by the sister / owner-duo Ashima and Rohini.
Odd shapes and bizarre forms take on elegant silhouettes, events are decorated to look like Christmas cakes and invites make a style-statement as event planners and designers in the city take on the packaging movement.
"Our main aim is to create things that can be reused," aver the two sisters. So people are encouraged to go in for gift-bags with attractive shapes so that after the gift is pulled out a couple of twigs thrown in or even bulbs inside the bags can be used to decorate corners.
So convention is out and funk is in as designers and event managers prefer to use their imagination and style to create something fun but without trivialising the occasion.
According to Rajendra Garg of 'Wedding Colour—Cards and Packaging' in Sector 19, "simpler the better." A statement echoed by Ashima and Rohini. "Nice does not have to be expensive because an invite reflects your and is a statement of what you believe in.
And today's buzz, tell us event designers Hema Bedi and Saguna Jain of 'Event it Right' in Sector 35 is the 'theme'. And that translated means the big whole and the whole hog!
"It starts right from the bride wearing orange," says Hema. Gifts in gold and orange, invites, anything accompanying the trousseau to shagun envelopes to flowers, orange it is! What happens if you do not get orange carnations for instance? "We work with marigold then," she smiles.
Colour Me Big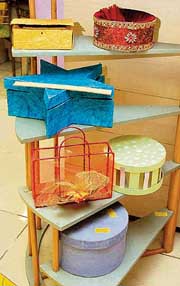 What is more, colour is big!
Apart from the classic gold, white and silver, people are now willing to experiment so along with fuchsia, purples and ice and aqua blues, festive greens are also finding pride of place.
But colourful does not necessarily mean jatka. "The aesthetic sense is getting better. With exposure to new things, classy is in as is festive but not tacky," chorus Ashima and Rohini.
But no one said being creative is easy! "I had a client once who wanted everything in blue and silver. Now you don't get blue flowers. So we spent enormous time dipping each stem in blue even going to a candle manufacturer and getting blue candles made. But it was worth it, it looked so beautiful," smiles Hema. Needless to add, her hands were a strange aqua shade for days!
Style Statement
Finally as spending power goes up, remember the first reflection of your taste is what you send out first, so why not splurge. While 'traditional' are, cards in scroll form wrapped in brocade fabric and tied with mouli, embossed pink and silver flowers announces a wedding, in avant-garde style.
And how is this for ingenious: a Sahi-Chithi (a letter from the bride's family to the groom's family formalising a wedding) with an antique pen adorned with a red feather with every invite!
Everyone loves a good potpourri of tissue, bells, paper and sprinkling of sequins to accessorise, so spray on the goodies!