Tame surrender by India
Gopal Sharma
Tribune News Service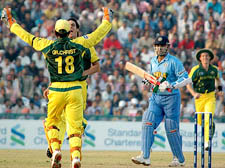 Virender Sehwag walks back to the pavilion after being dismissed in the Champions Trophy match against Australia at the PCA Stadium in Mohali on Sunday. Sehwag scored 65. — Tribune photo by Vinay Malik
Mohali, October 29
It was billed to be cracker of a contest. Traffic jams on the intersections leading to the stadium and long queues of the enthusiastic cricket fans outside it pointed to something engrossing in the offing. But as it turned out, the Indian charge for gaining a berth in the semifinal at the cost of Australia in the Champions Trophy fizzled out before it could actually begin.
Though most of the Indian batsmen failed to fire, India managed to put 249 on the board largely due to 65 runs by Virender Sehwag. Indian bowlers failed to pose any challenge as world champions Australia cruised to a facile six-wicket win to move into semifinal.
The contest, in fact, turned out to be a mismatch. Australia looked to have done their home work well and came prepared. They had the persons to do the job, whereas India proved to be a disjointed side. Australians showed in ample measures why they are the world champions and were determined to go home with the trophy that has remained out of their grasp so far.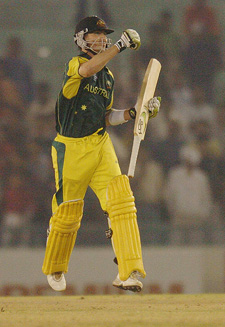 Australia's Damien Martyn gestures after scoring the winning run against India during the Champions Trophy match in Mohali on Sunday. — PTI photo

Batting first, India batsmen failed to put up a convincing display. Sachin Tendulkar looked a pale shadow of his usual self. He could not get going and fell after making 10. Though he scored 65 runs, Sehwag, going through a lean patch, never looked convincing at the wicket. He lived dangerously as the play started and the snicks off McGrath or Lee eluded the slip fieldsmen. When on 10, he was reprieved by Clarke at gully.

Though he executed a couple of gorgeous strikes in between, he was not the batsman he is known as. After spending a considerable time in the middle when he looked like settling down to play a long innings, he was trapped lbw by rookie seamer Michael Johnson. Sehwag scored 65 facing 90 balls.

The local player Dinesh Mongia looked determined to make the most of the opportunity provided due to the absence of Yuvraj Singh. He opened the scoring with a ferocious pull stroke which raced to the fence. He was batting well when he was sent back by Shane Watson after he had scored 18.

Rahul Dravid looked in fine nick. Playing some impressive strokes and rotating the strike well he kept the scoreboard ticking. He was the lone Indian batsman who could have helped India to an impressive total. But Lee cut short his stay at the wicket after the batsman had just completed his half century.

Raina stretched his lean patch, while Kaif and Pathan did nothing of note. Though big shots eluded Dhoni, he still managed more than a run a ball. His cameo knock took the total near the 250-run mark.

Unfortunately, Munaf Patel, on whom rested Indian hopes of providing some fight, was not allowed to settle in a rhythm by the Australian batsman. The India other seamers could not gain any purchase from the wicket as the Australia batsmen scored at an impressive rate. They completed hundred on the innings in 13.5 overs.

Dangerman Adam Gilchrist fell for 23, but he had provided Australia a rollicking start. Watson,

Ponting and Martyn all contributed half centuries as Australia were home in 45.4 overs.

Pathan was infective and conceded 42 runs in seven overs. He had the consolation of taking the wicket of Symonds, but the wicket came at the fag end of the play.

Sreesanth, sommoned for the key contest on account of injury to Agarkar, claimed two wickets. For Harbhajan also it proved to a forgettable outing as the off-spinner went wicketless. Left-arm bowler Mongia took the wicket of hard-hitting Watson. Damien Martyn was declared man of the match. With the victory, Australia, as the No 1 team from Group A, will now take on New Zealand in the first semifinal here on November 1. South Africa, who emerged champion team in Group B, will clash with West Indies in the second semifinal in Jaipur on November 2.

Scoreboard

India

Sehwag lbw Johnson 65

Tendulkar c Gilchrist

b McGrath 10

Mongia c Hussey b Watson 18

Dravid c Clarke b Lee 52

Kaif b Lee 30

Dhoni lbw Bracken 28

Raina c Watson b Bracken 13

Pathan c Martyn b McGrath 10

Harbhajan not out 5

Extras (lb-5, nb-4, w-9) 18

Total (8 wickets, 50 overs) 249

Fall of wickets: 1-46, 2-89, 3-126, 4-186, 5-197, 6-224, 7-239, 8-249.

Bowling: Lee 10-1-54-2, McGrath 10-1-34-2, Bracken 10-2-56-2, Johnson 8-0-33-1, Watson 9-0-48-1, Symonds 3-0-19-0.

Australia

Gilchrist c Raina b Sreesanth 23

Watson lbw Mongia 50

Ponting c Tendulkar

b Sreesanth 58

Martyn not out 73

Symonds b Pathan 20

Clarke not out 2

Extras (lb-8, w-18) 26 Total (4 wkts, 45.4 overs) 252 Fall of wickets: 1-61, 2-111, 3-185, 4-230.

Bowling: Pathan 7-0-42-1, Patel 8.4-0-61-0, Sreesanth 8-1-43-2, Harbhajan 10-0-49-0, Mongia 9-0-36-1, Sehwag 3-0-13-0. — PTI