M A I N N E W S
Ahead of talks, Pranab softspeaks on Pak
Rajeev Sharma
Tribune News Service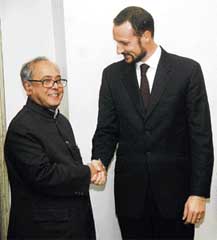 Secretary of State for Foreign and Commonwealth Affairs of United Kingdom Margaret Beckett and External Affairs Minister Pranab Mukherjee, on the way to address a press conference after the delegation level talk at Hyderabad House in New Delhi on Thursday. — Tribune photo by Mukesh Aggarwal
New Delhi, November 2
Twelve days ahead of the India-Pakistan Foreign Secretary-level talks here, External Affairs Minister Pranab Mukherjee today gave a subtle signal when he took a soft line towards Pakistan and the issue of terrorism emanating from Pakistan.
At a joint media interaction with British Foreign Minister Margaret Beckeet at Hyderabad House, Mr Mukherjee was asked whether there were double standards on India's war against terror as far as the Western countries were concerned and whether he put across Indian concerns on Pakistan-sponsored terrorism to Ms Beckett.
Mr Mukherjee's response was: "Terrorist activities are not confined to any territorial limit. This is a menace, perhaps the biggest menace, to world peace in the post-Cold War era. Therefore, all countries will have to work collectively to fight this menace and to eradicate it. Of course, we discussed the problems in all its dimensions but it is not any country-specific." In other circumstances, New Delhi's response would have been hard-hitting.
Ms Beckett said she agreed with Mr Mukherjee. "Terrorism is a threat to all countries wherever it arises. All of us must do what we can to work together and to tackle and to try to solve those problems because the terrorists are interested only in violence in a whole number of parts of the world and are operating counter to the interests of everyone except themselves. So, it is very important that as a world community, we all do everything we can to help to counter their activities," she said.
The two ministers had official talks for about 45 minutes. Mr Mukherjee said they discussed strengthening cooperation in counter-terrorism and agreed to a meeting of experts in the area of protecting critical national infrastructure such as mass transit systems and other assets.
An important decision taken by the two countries was to work together in protecting the two countries' infrastructure, particularly mass transport systems like metros, from terror attacks. "On the issue of counter-terrorism there are the obvious things on shared concern, shared flow of information and so on. But also very concretely we have people working, for example, with the relevant authorities in India to help prepare as we have all been trying to do for greater protection in attacks on mass transit infrastructure. So, there are some very concrete ways here, in which we are sharing our very unfortunate and tragic joint experience and trying to learn from each other's experience," Ms Beckett said.