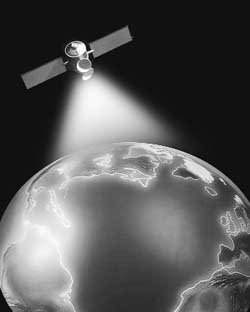 Ancient Indian spiritual literature is replete with fulsome hymns in praise of the sun as an indefatigable dynamo, lighting up the heavens with its indescribable splendour. Vedic texts also describe sun the remover of darkness and illness and a veritable provider of inexhaustible energy.
In recent years, solar power has emerged as one of the many alluring alternative energy sources to overcome the energy crunch triggered off by the skyrocketing of oil prices. Clearly and apparently, solar power is cheap, non-polluting and abundant source of energy.
As pointed out by energy experts, in the years ahead as the stock of highly polluting fossil fuels keeps dwindling, the sun might hold the key to drive the engine of this "overrated and overcrowded planet".
But all said and done, at the present state of development, the cost of technology for harnessing solar power is still high in comparison to the market price of the conventional energy sources.
Of course, rapid strides in technology could, in the long run, make solar power an economically viable and ecofriendly source of energy. In fact, an overwhelming proportion of current satellite missions derive their energy from solar cells embedded on their outer surface.
For more than three and a half decades now, space scientists have been working on the idea of solar power satellite (SPS) to mitigate the energy crisis looming large over our planet. It was in 1968 that the American scientist Dr Peter Gloser mooted the interesting idea of developing a large array of solar power panels to be stationed into the geostationary orbit —36,000 km above the equator where a satellite appears stationary in relation to earth for all practical purposes — for tapping the abundant and freely available solar power and beaming it back to earth for its conversion into electricity.
Meanwhile, in a development of significance, the California based Space Island Group Inc is planning to raise funds with a view to launching two SPS into orbit by 2012.
As envisaged now, these two satellites will generate electricity using the solar power and transmit it to the earth in the form of microwaves. According to Pranav Mehta, India Director of Space Island Group, everything going as planned, the companies would sell power to India and China at 10 cents per kilowatt hour without a hike in price till 2030.
As pointed out by Mehta the biggest plus point of placing a solar power generating system in space is the unobstructed view of the sun irrespective of brightness and darkness, and seasonal changes. while on earth, the efficiency of solar power system is around 20 per cent, in space it is around 50 per cent.
Basically, the SPS concept envisages using the nearly constant availability of sunlight in space to generate electricity on earth.
The energy would then be beamed from SPS to earth using either microwave or laser transmission systems.
But then the biggest challenge involved in realising an SPS system is how to lift and deploy huge quantities of materials to assemble solar arrays half way up in space.
As it is, installing an SPS involves ferrying hundreds of tonnes of materials into low earth orbit for assembling the satellite and pushing them into geostationary orbit subsequently.
For deploying such a huge quantity of materials into space, one needs a huge liftoff space vehicle. and herein lies the major challenge of realising an SPS system.
Significantly, the concept of SPS has evolved further to include such options as lunar-solar power where the solar energy stations could be located on the moon.
This would obviously have the advantage of easing construction in addition to the fact that moon can serve as a very stable platform.On its part, India too has unveiled a proposal for an SPS, though at the moment it is in a very rudimentary conceptual stage.
According to Raghavan Gopalaswami, a former chief of the Hyderabard-based defence outfit Bharat Dynamics Ltd, the intensity of sunlight in outer space is much higher than on earth.
Americans, Russians and Europeans all are active in developing the technology of SPS and pave the way for the realisation of technologically advanced and economically efficient space based solar power generation system with a view to finding a solution to the energy crunch haunting the humankind.