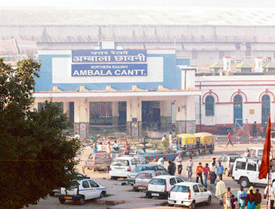 Platform of life
Sukant Deepak captures the burst of activity at the Ambala cantonment railway station. He takes a look at not only travellers but those who've stood here as witnesses for ages
The surrealistic lighting is inviting. There is something strangely mesmerising about the Ambala cantonment railway station that is hard to miss, harder to pin point.


FAST FORWARD: The Ambala cantonment railway station has an aura that is hard to miss. — Photo by Neeraj Chopra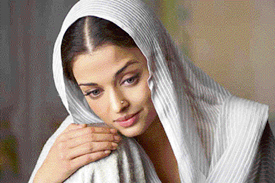 These are the few of my favourite films…
Anandita Gupta
Did you know that there are many who celebrated Divali minus the diyas (lamps), snugly tucked in some cozy recliner of Fun Republic? Giving them company were heaped caramel popcorns, frothy, chilled Pepsi and a betel leaf-chewing Shahrukh Khan, crooning the immortal Benarasi song, Khaike Paan Banaraswala.
PICTURE PERFECT: Aishwarya Rai in Umrao Jaan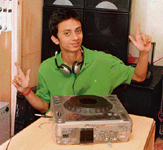 Desi Dancing
It is desi songs with angrezi beats that's swaying the youngsters rhythmically, says Saurabh Malik
Trance, techno, house and classic rock are out of rhythm for the partying crowd. In dancing spirit, so many of the youngsters prefer to swing musically to the reverberating beats of old Bollywood numbers! The ones whipped nicely and properly with young thumping beats! In discotheques and even nightclubs across the city!
Warm up your interiors
Many a times a great fireplace has been built which blandly stares back in the face of the homeowners, crying out to be decorated. Just as the fireplaces can warm your heart and make you snug like a rub in a bug, decorating its' mantle pieces is known to give headaches to many.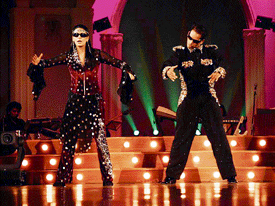 Bid for a cause
Gayatri Rajwade
Can anything starry be complete without a snazzy pulse on style? Never mind the tepid alliteration, but Sony Television's recent finale of its dance blitzkrieg Jhalak Dikhhla Jaa not only brought oodles of attention to the amazing transformation (once again!) of an unlikely dancer Mona Singh into a gracefully manoeuvring gazelle on stage (so much so that she won the competition), but it also focussed attention on the one aspect that television never fails to influence—fashion! The glittering dresses, the sweeping skirts, the elegant gowns and even the gaudy body-suits donned by the men have been the cynosure of minute attention. But wait; do not pick up your scissors and spools of thread just yet to emulate all those sequinned wonders, just bid for the originals themselves!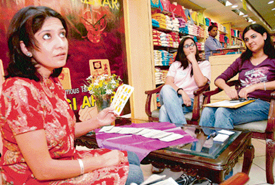 Event is the THING
The new market mantra is not just to attract customers but to involve and entertain them too, says Nirupama Dutt
A young girl sitting across tarot reader Gargi Arora wants to know if she should appear for an examination. "Yes, the time is good. Success will be with you." An anxious old woman asks if the time is ready for her daughter's wedding. Gargi replies, "No, wait a few years more and let the girl get strong enough in her mind to take the responsibility of marriage."
FORTUNE SEEKERS: Gargi Arora reveals what the tarot cards have to say at an event in Meena Bazaar, Manimajra. — Photos by Parvesh Chauhan

The unsung prince
Amarjeet Singh's aim is to tell the story of the unsung hero of Punjab history, Maharaja Duleep Singh, exiled younger son of Maharaja Ranjit Singh, to the world. After holding 20 sponsored shows in the US, Amarjeet Singh has knocked the doors of Hollywood also with a documentary on the prince called, "Maharaja Duleep Singh, a Monument of Injustice". The quest began after Amarjeet Singh read a book written by his father, Dr Sher Singh Sher, on the prince.
Culturally yours
Acclaimed theatre artiste and social activist M. K. Raina is in town to work with the children of Vivek High School for a production called Jasma Odan, reports Parbina Rashid
It's difficult to say who was enjoying the exercise more–M.K. Raina immersed in the sound of dholak and nagaras or the cast of 45 children hungry to lap up the director's notes. So for once, your instinctive journalistic nature to hurry up things has to take a backseat as he, with so much command, asks you to sit and enjoy the song.
Lost and found
On the 13day of the last month when our colleague Anuradha Shukla got the news of the passing away of one of the very talented theatre veterans Balraj Pandit (Panditji), we had trouble finding his picture.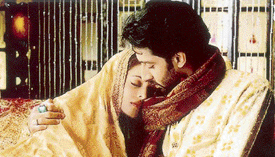 NEW RELEASES
Umrao Jaan revisited
After LoC, J. P. Dutta is ready to take the centrestage again with his magnum opus and first female-oriented, non-action, musical film Umrao Jaan. Dutta deals with an emotional subject in this film. The audience already knows Ameeran's story in the film, which is a remake of Muzaffar Ali's Umrao Jaan (1981). Rekha got the National Award for her outstanding performance in the earlier film and left an indelible mark of her histrionics.
FILM & FASHION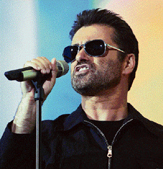 Murdoch — the devil?
Media mogul Rupert Murdoch doesn't need to wonder what singer George Michael thinks about him, especially after the latter labelled him 'the devil'.
Julia in trouble
Tyra's new avatar
Keeny G. best golfer
Kevin likes fatherhood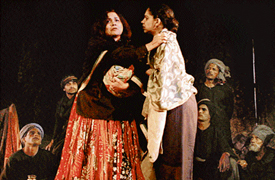 'Bishni' reincarnate
When conversation centres on Gick Grewal, emotions fly. It's not only the way she utters her son's name, Kesho, in the last act in Naga-mandala that gives one a heavy heart while leaving, even in a simple conversation Gick can bring the best out in a person, sometimes with her bright smile and sometimes with moist eyes.
Gick Grewal on the sets of Naga-mandala

---