Patan Patola: Fighting for survival
Patola-weaving is a closely guarded family tradition. Now there are only three families left that weave these highly prized double ikkat sarees that cost a lakh or more, says Elsa S Mathews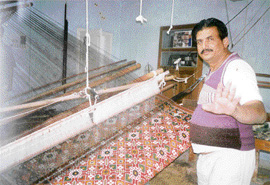 VALUED HERITAGE: It takes four to six months to weave one Patola saree
"Chelajire mare mate Patan thi Patola mohnga lavjo (Bring me an expensive patola from Patan)," goes an old Gujarati song. For textile lovers all over the world, the name of Patan, a small town in north Gujarat, conjures up visions of six yards of exquisitely beautiful — and now incredibly expensive — fabric: the Patola saree. Once worn by royalty and aristocracy, it is now more accessible —to those who can afford it.
Patola-making is a closely guarded family tradition; and there are now only three families left that weave these highly prized double ikkat sarees. Many members of the younger generation are not interested in spending long hours meticulously dyeing the yarn and weaving at the huge, traditional wooden handlooms. The art of weaving the Patan Patola is not dying quite yet — there are a handful of young men who have taken up the family occupation — but the number of weavers is dwindling.
"The process is very long. It takes four to six months to make one Patola saree; and it takes at least seven to eight years to learn," says Satishbhai Salvi, who is in his late forties. "Nowadays no one is interested in investing so much time learning how to make Patolas."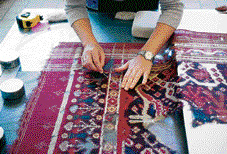 In another Patola weaver's household, Rahul Salvi, 28, sits on the loom. Though he has a degree in architecture, he has decided to follow the family tradition. "I feel good about what I am doing,'' he says. "As children, we grew up watching our fathers weave and we used to help around during the school vacations. But I became really involved in the process only after I graduated." The long hours of slow labour on the loom do not wear out Salvi who enters the workshop at 9 am each day and leaves only at 11 pm. "When I start weaving, I feel I am worshipping God, so I don't feel the passing of time. I love what I do," he says.
Salvi doesn't feel out of place when hanging out with friends pursuing other careers. "I am very proud of what I do. I am practising an old and extraordinary art," he says.
Originally from Jalna in southern Maharashtra, Patola weavers moved to Gujarat about 800 years ago to benefit from the patronage of the Solanki Rajputs who then ruled Gujarat and parts of southern Rajasthan and Malwa. King Kumarpal is known to have worn robes made of Patola fabric for worshipping and other royal occasions. After the fall of the Solanki dynasty, affluent Gujarati merchants patronised the weavers and Patola sarees soon became a status symbol. After World War II, as foreign and Indian clientele dwindled, weavers sought other means of making a living and only 15 families continued the ancient art. And now there are just three.
Patan Patola is done in the double ikkat style, which is perhaps the most complicated of all textile designs in the whole world. Each fabric consists of a series of warp threads and a single weft thread that binds the warp threads together. The dyeing process is tedious and intricate, and takes anywhere from two to three months. Each one of the warp threads is tied and dyed according to the pattern of the saree, such that the knotted portions of the thread do not catch the colours. The result is not only a tremendous richness in colour of the fabric, but both sides of the saree look exactly alike and can be worn either way. The price of Patola sarees ranges from Rs 95,000 to Rs 6 lakh.
The dyes, made from vegetable extracts and other natural colours, are so fast that there is a Gujarati saying that "the Patola will tear, but the colour will not fade".
There are other Patolas woven in India — in Rajkot in Gujarat, in Andhra Pradesh and in Orissa — but they are all single ikkat. None can match the beauty, clarity and delicacy of design of the Patan Patola.
If the Patola weavers of Patan have a grouse it is that the government has not done enough to preserve and promote this heritage art. For instance, they say the Gujarat Government gives subsidies to encourage the single-ikkat Patola weavers of Rajkot (dismissed scathingly as 'duplicates' by the younger weavers in Patan) and this is adding insult to injury.
Nirmal Salvi, 22, has a B.Sc degree but he is following in his father's footsteps. "I feel proud to be a part of the 2000-year-old family heritage," he says. Nirmal started learning this art of weaving when he joined college. He puts in close to 12 hours at the loom each day. As the only son, he is conscious of the burden of continuing his family's legacy.
"Education is just a means of being in tune with the world. But our real ambition is to weave beautiful Patolas," says Sawant Salvi, 22, who is currently pursuing a civil engineering degree. He has been learning Patola-weaving for the past three years.
The inheritors of the Patan Patola legacy are possessive about their craft. It is believed that the daughters of the three Salvi households are not taught to weave the Patolas, though they help in the processes of tying and dyeing. Wives and daughters-in-law, however, are trained so that the craft remains within the family.
"I want to marry a girl who is interested in weaving Patolas,'' says Rahul Salvi. "My greatest contribution to this rare art would be to teach it to the future generations of my family," says Sawant. — WFS