One flew over the
PAINTERíS NEST
Painter, writer, actor and vagabond are some ways to describe Naresh Pandit who has made eloquent paintings of hills and hill people from his studio in Mandi, says Nirupama Dutt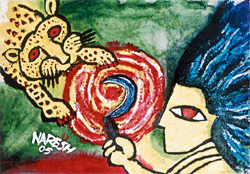 Pahari Women, In Praise of Nirmla Devi, Acrylic on Canvas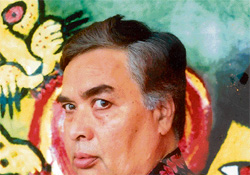 Naresh Pandit: A mountain man to the core
The first image one has of painter, writer and actor Naresh Pandit dates back to the late 1970s. It is a street play by Gurcharan Chaani, probably Disturbed Area and among the young actors are students of the College of Art, Chandigarh, is one who chants his lines with more gusto than others: Raje mangi bakri, main bakri lijani hai
Early years
Short, sturdy, chubby cheeked, he is a hill boy to the core. Later, this passionate young boy was to go and make a name for himself as writer and painter. Even while in college, he showed a talent superior to others. His was a creativity that was asserting itself in ways more than one and his was a free spirit that rebelled against regimentation on any kind. Yes, those were the times when awargi reigned supreme and the streets of Le Corbusierís Chandigarh were the catwalk for the Ďspiritedí poets actors and intellectuals of the time and these he roamed freely with friends and mentors like poet Kumar Vikal and writer Narendra Oberoi.
His works as a student were marked with a boldness of form and a brilliance of coloursóbright yellow sunflowers against a steel grey backdrop and the red ball of a burning sun against a dark sky. However, a shootout at night in the 1980s when the blood of an innocent student was shed affected him deeply and he decided to retreat to the safety of his hills and the tranquillity of the Beas that flowed past his hometown Mandi.
Words & visuals
However, his date with words and visuals never ended and continues till date. Nor his relationship of love and hate with Chandigarh where he would periodically come sometimes to take on a job with some advertising agency and at other times just to be with his friends; yet other times to make a nuisance of himself, hooting at a play or becoming a pro-people conscience keeper.
But all the while he continued to paint as he wished and pen short stories that won him a place as a prominent Hindi writer of the region. "There was an experience of life that found its way into painting and yet another area that meandered into literature. I get a different kind of satisfaction painting and a different kind of satisfaction writing. Both forms help me express myself," says Naresh.
Shining sun
Sunshine is the soul-saver in the hilly terrain and as a painter Naresh has always taken inspiration from the sun. The gigantic energy of the sun moves him to create a new dimension of the sun. Besides, his paintings bring alive the blue skies, the soft tufts of clouds, the sparkling snow on stark mountains. "My delineation is contemporary but inspired by the Pahari Kalam, I have simplified the three dimensions of a landscape into a two- dimensional view and I avoid the stylisation of old and try to bring out the textures and tones true to life," the artist says.
One of his most evocative recent paintings has been a tribute to the hill womanhood. Called An Ode to Nirmala Devi, it shows a hill woman killing a leopard with the same sickle with which she was cutting grass in the jungle. It is inspired by a real-life story from a village nearby Mandi where a peasant called Nirmala actually achieved this and as a reward for her bravery the Himachal Government gave her the post of a peon. "The irony of it all is that the drunk husband would come and snatch away her wages. So the real leopard for a woman is in her home" says Naresh. Well, Panditji is a story now stirring in your soul? Is it time to put away the brush for a while and pick up the pen for after all you are one who has flown over the painterís nest.