Dress up for the occasion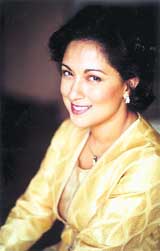 Now that we are well into the party season it's best to be prepared and put best face forward. Every function or a party has its own ambience, created by the time of the year, location and also by the people who are invited. So it definitely makes sense to coordinate one's make up with all these related factors.
Off to dinner
Dinner usually means dim lighting; make up must be applied naturally, yet it must have adequate definition to be able to show through.
Foundation can be applied more heavily with the use of Oriflame compact foundation.
If concealing is required, then this is the time to conceal under eye shadows, pimples or pigmentation, with Kryolan pansticks. Use these products very sparingly as a heavy hand can make the problem look every more obvious.
Light dusting of powder all over face, this helps set the concealer.
Revlon shadow should match the colour of the outfit. Blend well into the crease of the eyes with medium eyes shadow brush.
Use a matching liquid liner to emphasise eyes. Use coloured kohl inside the eyes.
Curl lashes and use 3D L'Oreal mascara. Avoid using under the eyes if there's a dark circle problem; with dim lighting this could be enhanced as shadow if mascara is used under the eyes.
Use clear mascara on very bushy eyebrows to tame them into place. If this doesn't help, then give the brows a slight trim.
A bronzing blush can be used to accentuate the cheekbones. Be sure to apply the bronzer under the cheekbones to cut and lift the face shape. To add a puff of colour, use a brighter blush colour on the apples of the cheeks.
Lips must wear a long-lasting lip colour it saves time for touch-ups.
Use a thick body lotion for shine on exposed skin.
A fashion show or cocktail party
This is an occasion where one can really let one's personal style 'shine' through. Get out all your glitter, gloss and funky accessories.
Skinlights foundation for those with great skin or alternatively Studio tech compact foundation by Mac.
Concealer either by Kryolan for difficult areas or Mac cover up.
Use a light transparent setting powder only on cover up areas.
Put Vaseline sparingly on eyelids (only up to eyelid crease). Wipe away excess Vaseline, it should only be a smear.
Use a shimmer powder shadow on the lids with medium eye shadow brush (preferably a dark bright colour).
Use the same colour glitter, or one shade lighter, over pigment powder. If you are not a glitter person, then leave out this step.
False lashes can be worn. Mac No. 7 lashes are perfect.
Mascara can be applied to blend false lashes to the the natural ones.
Either the same glitter can be extended into a liner on the bottom line, or a coloured liner can be used instead.
Using the shimmer powder 'Goldmine' by Chambor can enhance a strong blush colour. This is a loose powder, which can be swept on the cheekbones after a blush or bronzer.
Lips can be nude for a fashion show using 'barely' nude gloss by Clinique. For a cocktail, lips can have a lacquer gloss by Mac. This will glamorize them by making them strong, yet soft.
A farmhouse party
Farmhouse parties are huge and one can literally get lost in them. So this is a chance to get noticed by using all the dark colours you have forgotten about.
Kryolan panstick or Mac Studio tech foundation for heavy coverage. Those with good skin, go for Mac hyper real foundation.
Use a smear of Vaseline on eyelids extending up to the brow bone.
Use matching colour of shadow to outfit, all over eyelid. Use a beige/gold highlighter on your brow bone.
Use a deep plum, brown or grey on the outer one-third of the lid. This should definitely open the eyes out. Extend this to underneath eyes, if you're in the mood to experiment.
Use Chambor 'star candy' blush on top of cheekbones. For further enhancement, add gold glitter extending to the temples.
Use a black glitter as on eyeliner on the top lid. Kohl inside the eye will also complement this look.
Curl lashes and put two applications of L'Oreal mascara.
Use a deep plum cheek colour under cheekbones.
Darken brows if needed and brush with clear gloss.
Lips are to be lined with a deep maroon or red. Use a matching lipstick or tone it down with gold powder.
Off to the movies
This depends on whether it's a night or day show, however, the only difference would be the base application.
Use Mac studio fix powder for the base.
L'Oreal eye smoker can be used directly on the lids as a shadow-cum-eye pencil.
For those with thick lashes, use Oriflame clear mascara or a lash 'curl' mascara by L'Oreal.
Use a natural rose-coloured blush by Chambor for a fresh and natural look.
Use the Lakme long-lasting lipstick with lip pencil. No need to touch up during the popcorn breaks!