A choice you won't mind
Nowadays psychologists play not only a corrective role but also a supportive one as counsellors in fields ranging from fitness and sports to education, writes Sunit Dhawan
THE discipline of psychology — said to be as old as human civilisation itself - has become all the more relevant today. The modern era might have made our life convenient, but it has also brought cut-throat competition and intense consumerism. Life has become much faster, demanding and stressful. Consequently, more and more people have become susceptible to anxiety, depression, hypertension, maladjustment and other behavioural disorders.


Careercature
Sandeep Joshi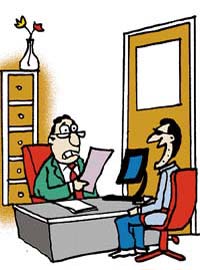 Sir, in order to present an attractive resume I have pasted the photograph of a filmstar who looks like me.
Sudden change in the workplace can be tricky
Amy Joyce
THE big bosses bring in a leader whose history at the helm and enthusiasm make him seem like the Second Coming, and who has new ideas, energy and determination to change things. But if the new superstar does not take the company's history or culture into account before he turns the organisation's identity upside down, it could be disastrous: low morale, shattered expectations, and grumblings that his grand ideas are overblown hype.

IIM-A centre to gender sensitise corporate employers
IN an attempt to resolve gender issues in corporate houses of the country as well as understand the diverse experiences of both men and women in the boardroom, the Indian Institute of Management, Ahmedabad, has set up a Gender Resource Centre.

All's fair in job hunting
GONE are the days when job-seekers used to toe the endless queues of a government-run employment exchange. Welcome to the high-tech era of job recruitment where job fairs are held almost every week across the country, making job hunting easy.

Smart Skills
Navigate your way into the Coast Guard
Usha Albuquerque
Combining a life of challenges with adventure is that of the men in white, the Indian Coast Guard. With India's vast 7,000 km coastline there is a very large sea frontier to protect. So, the Coast Guard is a force additional to the Navy, handling not the defence of the sea frontier, but the protection of Indian waters and the maritime resources within the jurisdiction of the coastal economic zone.

Career Hotline
Back to work
Pervin Malhotra
Q I am trying to get back into the workforce after being a stay-at-home mom for 10 years. Please help. I don't know where to start.