Shiva temple given facelift
Varinder Walia
Tribune News Service
Punjab's border villages like Ajnala, Attari, Kasel, Bhakna Kalan , Serai Imanat Khan and Khalra are dotted with crumbling monuments of pre –Partition styles.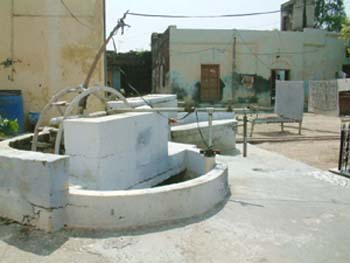 The ancient well, with special chemical properties that once cured Maharaja Ranjit Singh, in the border village of Kasel has also been given a new look.
Enveloped in mythology, the Shiva temple, believed to be visited by Mata Kaushalya, mother of Lord Rama, in Kasel village, near Pakistan border, is in ruins.
The local Mahants claim that Kasel was native village of maternal grandfather of Lord Rama.
The Kasel was named after Mata Kaushalya, though its ancient name was Kaushalyapuri.
It is said Maharaja Ranjit Singh on a visit doled out huge money and land to the temple named after Mata Kaushalya.


A marble plate on the boundary wall of Shiva Temple in Kasel village reads that 112 men from the border village had gone to First World War. Of these, 12 were killed.
Photos: Rajiv Sharma
The Mahants ,who use the major part of the temple for personal use ,have carried out renovations.
The temple tank made of Nanakshahi bricks has not been de-silted in years . The village children, unaware about the water-borne diseases, play in the filthy waters during the rainy season.
Maharaja Ranjit Singh used to get water on camelbacks from the well of the Shiv temple, which could cure water-borne diseases.
The record of the temple reads, "This Mafi (exemption) was granted for the maintenance of Shivala at Mauja Dhand Kasel vide letter number 520, April 13, 1875 by State of Punjab (registerial 93 Mafi, Tehsil Tarn Taran)".
The order regarding exemption was issued by R. Calark, the then Commissioner, Amritsar, in 1901. Later, Deputy Commissioner, in his order issued on April 1, 1941, also acknowledged the historicity of the temple.
Mahant Baldev Giri claimed that the Shiv Temple had one of the four ancient Shivlings in the country.
He claimed that devotees from far-flung areas used to visit the temple before the village was affected by militancy.
He said during excavation the Mahants could not find the end of the Shivling though they dug up the place up to 30 metres.
Mr Om Parkash, another Mahant, alleges that neither the state government nor the Archaeological Survey of India had spent anything to preserve the shrine.
In olden days, pilgrims from far flung areas used to walk for months to reach the temple. But today one can drive up to the door of the temple.
The Mahants claim that the temple like four Shiv Dhams is a sacred destination for devotees.