Young rural scientists fare well in city
Deepkamal Kaur
Tribune News Service
Two young boys from a rural government school once again proved that creativity and knowledge does not necessarily come with wealth and better amenities.
Two students of Class VIII of the Government Senior Secondary School, Malsian, Amandeep and Jatinder Singh used waste material to make a model of hydraulic JCB machine which could lift waste without the use of fuel or power. The exhibit was put on display at Government Model Senior Secondary School, Ladowali Road, on the penultimate day of the district-level science fair being organised here.


Even as the contests held during science fair had been open for all government, private, CBSE or PSEB affiliated schools, only one CBSE school took the initiative. Barring Shiv Jyoti School, no other CBSE affiliated school participated in the contest. While the government has been spending enough for encouraging teachers to make teaching aids, only five entries in the contest meant for school teachers of the district were received till this afternoon.
The students used eight syringes, glucose pipes and waste telephone cables to make the device. The boys used air pressure through four syringes in their hands to move the machine smoothly in different directions. "The same concept can be applied for using a full-size machine wherein jets used in tractors can be fit into it in place of syringes", they explained.
Jatinder and Amandeep said they had to spend Rs 50 on making the project as they could not do the welding work and had to get it done from mechanics. "We did not spend a penny on buying metal pieces and extracted these from various waste items lying at home," the boys said.
Having own the first prize at block and tehsil levels during contests held earlier, the boys are now keeping their fingers crossed to win the first prize again at the district-level so that they could participate in the state-level contest.
The result of the contest, which has already been finalized, will be declared tomorrow. The exhibit falls under the sub-theme "Industry and Environment" under the main theme of "Science and technology for sustainable development".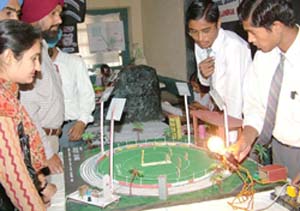 Pintu Kumar and Sandeep Kumar from Government Model Senior
Secondary School, Ladowali Road, demonstrate the working of an automatic lighting system during the district-level science fair at Government Model Senior Secondary School, Ladowali Road, Jalandhar, on Thursday.
The other sub-themes in the contest are "Food and agriculture", "Energy", "Educational technology and mathematical modelling" and "Transport and communication". Other models with lot of creativity included those by Sandeep Kumar and Pintu Kumar of the host school on "Automatic lighting systems" where they created a cricket stadium with pitch, players, VIP gallery and lights that got switched on in the evening automatically using sensors. The intensity of lights kept on increasing as it became darker.
Puneet Pal Singh and Bhanav Sharma from the host school exhibited model on level indicator of water tank. "We sometimes have to go upstairs to check the water level of the tank. But with this devise, the problem would be eliminated", they explained. They showed how one of the five bulbs would light up when only 20 per cent of the tank will be full, two bulbs for 40 per cent and all five for cent per cent. When the fifth bulb lit up, the water stopped getting into the tank automatically and a bell started ringing.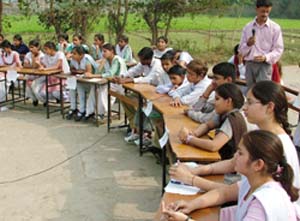 Students in a quiz contest.
The results:
For the students of Classes IX and X, an on-the-spot chart making contest was held on topics "Heart and respiratory system".
Sarabjit Singh of Shiv Jyoti School stood first, followed by Manpreet Kaur of Government Senior Secondary School, Lambran, and Pooja Verma of Shiv Devi Girls' High School.
In the quiz contest, 30 teams participated. The first prize was won by Shagufa and Manjot of Government Senior Secondary School, Fantom Ganj. Kuljinder Kaur and Gaganpreet Kaur of MGN Girls' School, Adda Hoshiarpur, were declared second. Kiranjit Kaur and Bhupinder Kaur of Government Senior Secondary School, Chak Desraj, were declared third. Mr Sanjiwan Singh Dadhwal was the quiz master.