Airports on alert after Al-Qaida threat
Jangveer Singh & Arup Chanda
Tribune News Service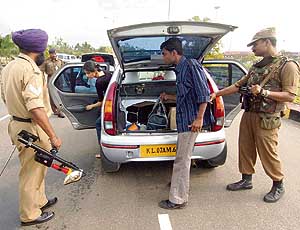 High Alert: Policemen search a car at a checkpoint outside the international airport in Thiruvanathapuram on Thursday. — Reuters
Bangalore, November 9
Security has been strengthened at airports across South India after an alleged Al Qaida threat was received by the Tiruchirapalli airport authorities in Tamil Nadu today.
The letter, written in Tamil, warned that serial blasts would be carried out at the Tiruchirapalli, Madurai and Coimbatore airports in
Tamil Nadu and also at Thiruvanthapuram and Kochi airports in Kerala.
The letter was found by an airport worker at a work counter in Tiruchirapalli
airport.
The letter, which says that Al Qaeda terrorists had planted modern explosives at the Chennai airport and also at airports in Tamil Nadu and Kerala, is titled Allah Osama.
The authorities, suspecting Al Qaeda hand behind the unsigned letter, have issued a high security alert at airports in Tamil Nadu, Kerala and Bangalore. Efforts are also on to ascertain whether the letter is genuine.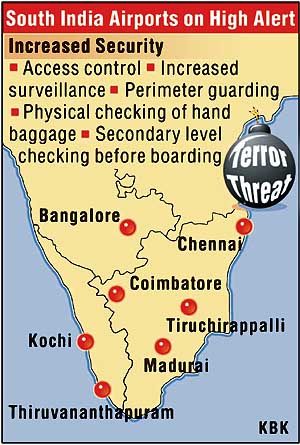 Briefing mediapersons about the threat, Karnataka Director General of Police B.S Sial

said though the letter did not mention Bangalore airport, the state police had strengthened security measures in and around the airport keeping in view earlier threat perceptions from anti-national outfits. He said anti-hijacking measures had also been put into place at the Bangalore airport.

Besides the visible checking of vehicles coming into the airport complex as well as those parked in earmarked slots, passengers entering the airport lounge are also being frisked.

Mr Kaushal said plainclothes men had also been put on duty. Besides this passengers are also being monitored through close-circuit cameras.

The Directorate of Civil Aviation (DGCA) has also asked passengers travelling to and from cities in southern India to report early at airports.

Chennai: Passengers flying out from Chennai were put to inconvenience as the Tamil Nadu police went into a security overdrive after getting a threatening letter.

Officials of the Airports Authority of India requested the public to cooperate. Chennai airport director Dinesh Kumar said Central Industrial Security Force (CISF) and the Bureau of Civil Aviation Security (BCAS) have been pressed into service to assess the threat perceptions and react accordingly.

Other concerns arose due to the high attendance of Islamic cadres of the Tamil Nadu Muslim Munnetra Kazhagam (TMMK) in demonstrations to protest against the sentence handed down to Saddam Hussein. Hundreds of TMMK cadres were arrested outside the US consulate in south Chennai.

IG (Intelligence) Subramanyam reviewed security arrangements at the airport yesterday after handing over the letter to forensic and handwriting experts to find out whether it matched any set pattern in the past.

Meanwhile, Chief Minister M. Karunanidhi held a high level meeting with top police officials, including DGP D. Mukherjee and Commissioner of Police Lathika Saran.

New Delhi: Civil aviation Secretary Ajay Prasad said it had been decided to tighten the existing security apparatus in the airports, including physical checking of all hand baggage of passengers. Earlier, physical checking of hand baggage was carried out on a random basis.