Punjabi jutti chali phoren
Available in simple shades as well as bright colours with attractive embroidery, the jutti is now making waves in cities like London and New York, writes Anuradha Shukla
J

utti

Kasuri Pairin Na Poori, Hayo Rabba Ve Sannu Turna Peya goes the famous line of the Punjabi folk song sung by Surinder Kaur. The damsel in the folk song may be having trouble walking in ill-fitting juttis but the jutti itself has walked far and wide and has reached far-off lands, thanks to the NRPs (Non-Resident Punjabis) and the jutti's newfound fans among foreigners there. The juttis from Patiala and not Kasur (now in Pakistan) rule the popularity charts not only here but also around the world. These 'pieces of art' are an inseparable part of Punjabi attire. Available in simple shades as well as bright colours with attractive embroidery, the juttis rule the heart of ethnically chic Punjabis everywhere.
Top the chill
With the weather taking a chilly turn at dawn and dusk, time has come to leave climate controlled environs behind and enjoy what Mother Nature has to offer in our patios, porches, decks and pergolas, which enhance our winter living.

YOUTH SPEAK
The grass is always greener…
Despite having to queue for miles and miles with an almost assured prospect of rejection, thousands of Punjabis flock to various embassies in New Delhi for visas to take them to any country that will accept them. They sell everything they have, spend ridiculous sums of money on preparation for visa interviews and language exams and are willing to move to any country that will take them. Why is this the case?
NEW RELEASES
Family drama from Rajshri
Sooraj R. Barjatya's biggest release Vivah is a melodramatic family entertainer—a heart-warming story of unconditional love. Vivah, stars the young pair of Shahid Kapoor and Amrita Rao. Besides being a refreshing love story, the film is also the first to tackle the relationship between a couple bound by the bond of engagement rings and the special rights they give each other.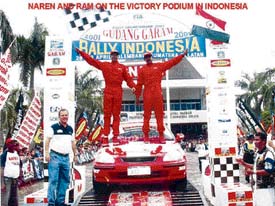 Pushing the limits
Coimbatore-based rallyist V.R. Naren Kumar is all set to be the first and only Indian to be part of the World Rally (2007) and European (2006) championships. Sukant Deepak talks to the veteran sportsman with a never-say-die attitude
A fleeting look at this bespectacled man and you're bound to think that he has come straight from some boardroom meeting—or a golf course. But then, appearances can be deceptive. Dwell a little deeper and you discover a brilliant set of skills that make him all set to be the first Indian to participate in the FIA Production 2007 World Rally Championship (WRC) next year and the 2006 European Championship as part of Italy's Fiat Abarth works team where he will be driving the all-powerful Fiat Grand Punto S2000, a two-litre, 270-bhp vehicle.
School Mall
Gayatri Rajwade
This is a mall with a difference! No Calvin Klein jeans, nor Paloma Picasso perfumes and neither any haute Donatella Versace couture draped strategically in interesting corners but it is a mall nonetheless—and one for schools! Surprised? Well that is exactly what Mayor School Mall's USP is.
FILM & FASHION
A Family 'Bond'
"The name's Bond, James Bond." A name that is almost synonymous with death defying stunts and feats of gallantry. Here's another name for you 'Powell', the name that little known to us all has been behind all of Bond's stunts.
Polished perfectly
Anandita Gupta
Ever wondered what preparation a soon-to-be wed ought to make before taking the plunge? Of course, those shop-till-drop-sprees, pampering beauty treatments at prestigious parlours, honeymoon planning, romantic dates and candlelight dinners take top priority. However, how about the mental and emotional preparation, for handling the pressures of a totally changed (or do I say new) life post marriage?
Arty Trio
Gayatri Rajwade
T

his

is truly a happy week for art—an exhibition of paintings and drawings by three of India's senior artists, Jivan Adalja, Prem Singh and S. K. Sahni throws up a tremendous body of work, technique and creativity.





ART BOND: Prem Singh, Jivan Adalja and S.K. Sahni. — Photo by Parvesh Chauhan
For an equal world
Anuradha Shukla
She paints the canvas of life with her words of poetry. Realistic, straight and at times stark in presenting the truth, Manjit Indra loves to experiment. Delving into the labyrinth of human relationships and emotions, Manjit has come out with yet another experiment in the shape of her latest book of poetry Alakh. Talking to Lifestyle Manjit pours her heart out.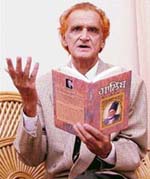 Mirza Ghalib in Punjabi
S. D. Sharma
Kuchh to padhiye ke log kehte hain, Aaj Ghalib ghazal sra naa hua.
Acclaimed across centuries by poetry lovers for his visionary literary genius, Mirza Ghalib is regarded as the eternal poet, an epitome of wisdom and rare emotional sensibility. Historians and scholars hail "Urdu, Ghalib and Taj Mahal" as the wondrous gifts of cultural and architectural significance to humanity of the Mughal era.
T.N. Raz
Real vivah?
No way…
Parbina Rashid
"Hello, I am Shahid Kapoor"—the voice over the telephone sounds polite but friendly and your mind darts to the image of the cute-looking guy dancing for some shampoo ad on television. He sounds excited about his latest release Vivah, so the conversation naturally revolves around the film. "I am playing the character called Prem who is an embodiment of love and I have tried to play him in the way I interpret him."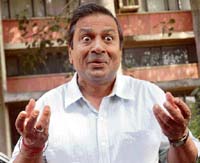 A complete artiste
S.D. Sharma
Striking a balance between his passions and profession, the acclaimed academician, film actor, prolific playwright and above all, a wonderful human being, Dr Surinder Sharma is a man of m yriad talents. Rightfully honoured and admired for his comedy roles in over 12 bilingual films, fifteen TV serials, 150 theatre productions, including 80 directorial assignments and 200 stage performances abroad, he had maintained the tradition of excellence as a professor of chemistry at Punjab University here.
Dr Surinder Sharma. Photo: Pradeep Tewari
---