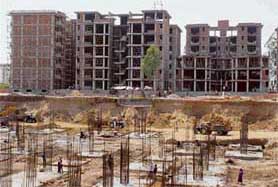 Legal hassles, delayed possession sour dreams
Hundreds of buyers are unable to get possession as their flats are not
ready. Builders blame promoters for funds crunch alleging that they have diverted the money to buy more land instead of developing the project they promoted, discover Pradeep Sharma
& Rajmeet Singh


—Photo by Parvesh Chauhan
Curtail credit to real estate: FM
Some impact on high-end products but no major slide in realty prices, say developers. While some of them feel there could be across-the-board corrections but this could be assessed in next few months, says S Satyanarayanan

Bill to bring cheers to home buyers
There is good news for home buyers. A new Bill to regulate the real estate developers is on the cards. The proposed bill would ensure that the investors are not fleeced by the builders. The Center is currently working on the draft of the Bill.

A check list for home buyers & loan seekers
Buying property? Scouting for a loan to buy property? Mulling payment options while buying property? Contemplating buying a dwelling unit in a group housing society? Want a house or flat in a privately-constructed housing colony?

Posh to slosh: flip side of 'VIP road'
Civic amenities are out of gear along the 'VIP road' in Zirakpur, says Pradeep Sharma
The 'VIP road' in Zirakpur, synonymous with the farmhouses of the rich and famous, is bursting at the seams. With many major realtors taking a fancy for the area for launching the multi-storeyed housing projects, the farmhouses are paving way for the apartments.

Despite civic amenities failing to keep pace with the urban development many realtors are launching housing projects along the 'VIP road' in Zirakpur. — Photo by Malkiat Singh
Poor infrastructure affects land prices in Defence Colony
Even though Ambala has a cantonment, which is more than 150 years old, housing facilities for retired servicemen are woefully lacking here. In most cities, normally the defence or cantonment colonies have well laid-out broad roads, availability of potable water, drainage system and proper power connections. Thanks to a good infrastructure, the land in such defence colonies is available at a high premium.


Reliance to set up retail outlet
Other major groups, too, line up to buy or rent space in many upcoming malls in the holy city of Amritsar, claims Ashok Sethi
Major industrial groups, including Reliance industries, have lined up to buy or rent space at major malls being set up in the holy city. The Reliance group, which has recently ventured into retail segment, has shown keen interest to set up shop for its large retail stores.

A shopping mall on the Mall Road in Amritsar. — Photo by Rajiv Sharma
Interest on security may be added to rent
Q. I have received a security deposit of one-year in respect of a flat which I have let out for a sum of Rs 1 lakh per month. The amount of security deposit received is Rs12 lakh. The deposit is refundable as and when the tenant leaves the accommodation.