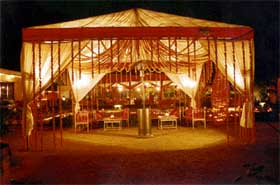 The wedding planners
The logistics of organising glamorous marriages are becoming grander. To cash in on the trend, many wedding professionals have set up shop in City Beautiful, writes Anandita Gupta
There is a distinct punch in the air (Can you feel it?). A whiff of art, fashion and celebration fills the senses— acrobatic acts, fire dancing, fireworks synchronised with music, water curtain projectors and a fairy-tale ambience. As the fashionistas drink in the heady air of festivity, animated youngsters bustle about excitedly. team of high-profile professionals—venue designers, choreographers, fashion designers and culinary magicians—has proved itself.



Booted to health
The name is Camp, Boot Camp and in true James Bond style it is flamboyantly… tough! And as the name suggests, this is no flossy name for a new kind of shoe, but a near-military exercise regime making waves in the West.

COOL STUFF
Denims for autumns
It's time to forget the harsh summer and get ready for those cool Autumn days and breezy evenings as Numero Uno brings its line based on sports theme and unveils its autumn Collection 2006. Fresh offerings from Numero Uno's design stables include an assortment of offer ultra-cool hooded and various prints, appliques and badges with contrast pipings, front open sweatshirts and snug sweatshirts for men and stylish cropped jackets for women.

Chyawanprash charms
Food for thought: Can fuddy-duddy ever shed its skin and emerge glowing anew? Yes, it can and that is the story of the ancient Chyawanprash! Associated with a singularly august sage sitting in calm piety, this 'health tonic' has come out of the woodworks and is sitting regally atop even on the sceptical youth's line of vision. And young city-based 'bohemian' budding artist Vikas 'Matisse' Gill is one such convert.
A foodie's paradise
Have we ever pondered to think about our truly happy and satisfying food experiences? Surprisingly, most of them are not always at plush hotels and hip restaurants but humble places. That old rickety roadside dhaba, where we halt while travelling, that ice-cream 'rehri' that stood religiously near our school's gate every afternoon or the 'chaat-papri' guy who stood in sector 22, might have given a much greater joy than an expensive buffet at the Taj.
BON APPETIT
Angling for fish
There was this young fellow named Fischer, Who was fishing for fish in a fissure, When a trout with a grin, pulled the fisherman in, Now they are searching the fissure for Fischer!!! When the rains peter out, we eagerly await the "R" months and the on start of the fish season. The Bengalis will be singing a welcome from the rooftops. How passionately they love their Maachher Jhol and Sorson Ilish (the latter is a hilsa prepared with a mustard paste).
Head Start
Fusion is definitely in. Not just in case of music or clothes but in food too. Or why would anyone think about pickling broccoli and offering it as a starter? Or for that matter marinating our own desi jhinga in vodka and whiping up a dish called 'Nashila Jhinga'? If you are an adventurous person and posses a fat purse to support your spirit, then sample out the new range of starters Manor-26 has just introduced.
Looking for the party queen
Call them decoration pieces in star-embellished flicks or objects of admiration oh-so-necessary these days for grabbing attention in movies that keep rolling on! Item-girls are tripping the light fantastic all the way to popularity and glory, gracefully and gorgeously (Ask Rakhi Sawant!) No wonder, search for "good stuff" is becoming all the more rhythmic. If you are having any doubts about the shaking reality, just talk to the Cine Vision people. The city-based event management group is organising a mega "Search for a Bollywood item girl" right here in the city of beautiful.


PARTY COUPLE: Ishaan Kakria and Akshita Agnihotri. — Photo by Parvesh Chauhan
Bhalley-bhalley Mehar Bhasin
After sharing honours with international super models like Cindy Crawford and Claudia Schiffer, the lissome beauty is all set to lend charm to city damsels, says Saurabh Malik
Silky brown tresses with golden streaks cascading down the fragile shoulders, assured gait that brings to the fore her towering height, chiseled features like that of a statue cut out of alabaster and cheerful almond eyes that compliment a jovial smile — you know the country's much sought after model is here.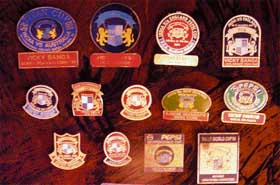 Anyone's dream job
Greg Chapell does bhangra with him, so does Gary Hammerson. If you are a cricket fan, chances are that you have seen him at Mohali cricket stadium, looking all-important and hobnobbing with people we only dream of meeting. We are talking about P.M.S. Banga, who is around to see that everything goes smoothly whenever there is an international cricket match at Mohali. If it still does not strike a chord, let us help you out. He is popularly known as Vicky Banga, local manager of the Indian cricket team. A job, which is anyone's dream job! "It runs in the family," says Vicky as we go through his huge collection of photographs with cricketers of all nations and ages.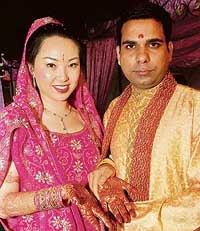 Hindi-Chini man and wife
How does sarson da saag with a sprinkling of Chinese cabbage sound? This was pretty much the sum of it all at a sweet wedding of cultures in Panchkula on Thursday where a rather dapper 'son-of-the-soil' Chandigarh-wallah (albeit with an American twist!) young man decided to get married to his Chinese sweetheart, Indian style. Neeraj Gupta met lovely Dominique in New York while he was studying at the Columbia University. Cupid struck and off they came to India to get married. And boy, is she having fun! "Indian weddings are so glamorous," smiles the pretty bride glowing in a bright pink salwar kameez set off with delicate diamond jewellery, her hands and feet decorated with the traditional mehndi.
FILM & FASHION
Not a party girl
Lindsay Lohan certainly hates being branded "a party girl," as she recently poured scorn on the label on Oprah Winfrey's show, telling the talk show queen, "I'm twenty years old! Is it a crime to go dancing with your friends?" Lindsay appeared on the chat-show with director Emilio Estevez, publicising the film Bobby.
Son Pari turns baddie
Actress Mrinal Kulkarni made her impressive mark in Son Pari on the small screen. The lady now plays the important character of Alaknanda in Solhah Singaar on Sahara One Television. Mrinal is happy with the way her acting career has taken shape. With six Marathi films this year and Sohlah Singaar going very strong from the first episode the talented actress has her hands full. Lifestyle chats up with this actress.
Tana Bana
On the tana bana of their handlooms (the vertical-Tana and horizontal-Bana alignment of thread on the loom) master craftsmen from all parts of the country weave the magic called Silk. Silk - a fabric made out of the saliva of silk moths to produce beautiful threads, has maximum varieties. A few rich varieties of this natural fabric are on display at Kisan Bhavan under the banner called Silkfab.
---