City of restored ruins
A visit to Ayutthaya, once the capital of Thailand, offers a peep into the country's glorious past, writes Inder Raj Ahluwalia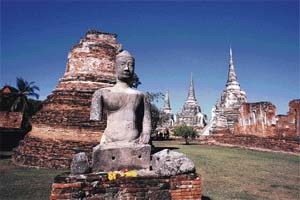 The city has a priceless collection of Buddha's images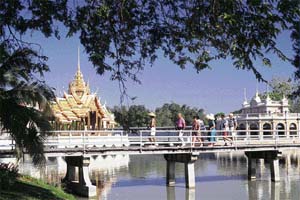 In recognition of Ayutthaya's archaeological value, fresh construction is not allowed in it
Slowly and lovingly, Ayutthaya has been brought back to life, its magnificent ruins reflecting its past glory. Ayutthaya, which was the capital of Thailand from 1350 and a power centre for more than 400 years till its destruction by the Burmese invaders in 1767, is a prime destination and priceless Thai relic.
Boarding the 'Oriental Queen', an ultra-luxury river cruiser, we set to sail down the Chao Phraya, known as the 'River of Kings'. Eighty km down the river from Bangkok, three hours away, Ayutthaya lay waiting.
The sun surfaced from behind the high-rise structures as we sailed down the busy river, the skyline and scenery changing by the minute. The huge riverfront structures that are modern Bangkok's commercial symbols, gave way to little huts and green fields, and the occasional pagoda visible in the distance. While the river was muddy to the point of being uninviting, the scenery was refreshing and the on-board service superb. We docked at a little jetty that had more foreign tourists than wooden planks, and alighted in the heart of Thailand's Northern Plains in mellow sunshine.
Ayutthaya's heydays in the 17th century saw it become the most fabulous city in the Orient, a centre of pomp and glory, a city of fabulous temples built by its people in honour of their Gods, and palaces for their royalty. The buildings were constructed on a grand scale, set amid landscaped gardens, and given definite shapes, all of which testify to a well-developed architectural flair. Today, the city of restored ruins tells the story of those bygone days of glory.
The city is spruced up and clean but remains largely unchanged and intact in its physical proportions. In recognition of its historic and archaeological value, no fresh construction is allowed. There is a rare sense of space here, which is soothing both to the mind and body.
The effect of the overall vastness is enhanced by the comparative lack of vehicular traffic and complete silence. The ruins have been carefully restored. Most still show their rough, rugged beauty through elegant shapes and distinct contours.
Shells of palaces lie in the middle of large courtyards, precariously leaning pagodas partly submerged beneath vegetation, stop one's walk around the city. There are countless, diverse smaller structures, and a superb and priceless collection of Buddha images, some neatly lined up in a row as though part of some grand ceremony.
In keeping with their religious and heritage value, the Buddha images deserve respect, which sets certain behavioural norms. It is considered disrespectful to point one's feet towards them or ascend to higher levels than where they are placed. And smoking is prohibited.
A tour of the city is educative as well as interesting. The area is replete with attractions. For instance, the ruins of the former royal palace, which was a complex of several buildings, something like a 'city within a city'. Or the Chao Sam Phraya National Museum that is stocked with old handicrafts and Thai art treasures that span several centuries of craftsmanship. Amid these treasures, a relic of great value is a large Buddha image called the Phra Mongkhon Bophit.
A fairytale scene of architectural wonders awaits one at Bang Pa-In Summer Palace, which played a significant role in former royal days. Featured is a unique collection of ornate ceilings, pillars, and bright arches, tastefully merged to form this beautiful and majestic structure.
While the main buildings of note are all old and historic, there is nothing old about the dozens of shopping outlets that do roaring business in souvenir sales, some to the accompaniment of voracious bargaining. The famous local souvenir are fish mobiles, but equally popular are other items that include silk weaves, artificial flowers, basketry, gilded human figurines, dolls, and the choicest woodcarving.
Adjacent to Bang Pa – In is the Bang Sai Royal Folk Arts and Crafts Centre, where craftsmen from Thailand's four main regions converge and produce quality handicrafts.
Ayutthaya is a destination apart. Not by any means Thailand's main tourist centre, it nevertheless, is gaining popularity by the day. One peeps into the country's past, learns about the rituals of old, and gets a chance to admire superb old architecture.
It is worth the effort, all the way through. Instead of loud contemporary music, there are religious chants of monks. And in place of bright lights, here there is the glow of little candles and lamps lit in reverence to local Gods and deities. It is soulful, peaceful, and beautiful, lingering long in one's memory.