Nalini by day, Nancy by night
Shoma A Chatterji reports on a documentary by an NRI academician on the dual identity of Indian call centre employees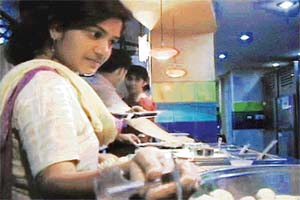 Sonali Gulatiís Nalini by Day, Nancy by Night blurs the line between documentary and fiction
Business Process Outsourcing (BPO) is a mantra Indiaís young population gladly chants by these days; they get paid well, the country earns millions and allís well with the world. But whatís the scene behind this happy picture? Which is what Nalini by Day, Nancy by Night, a documentary, tries to look at.
Told from the perspective of an Indian living in the US, the film journeys into Indiaís call centres where telemarketers acquire American names and accents to service the telephone-support industry in the US. It is directed by Sonali Gulati, an Assistant Professor at Virginia Commonwealth University where she teaches film production and experimental filmmaking. Her films have won awards at many international festivals. Nalini by Day, Nancy by Night has won the Directorís Choice Award at the Black Maria Film and Video Festival, the first prize for the Best International Short Film at the 24th International Cinemateca Film Festival, Uruguay,`A0 the Ledo Matteoli Award for the Best Immigrant Story at the 39th Annuasl Humboldt International Film Festival, among others.
What was the provocation for Gulati to make this film? Says she, "I was intrigued by the evolving relationship between the girls and boys who work at call centres and myself. I am an Indian living in the US. I bear an Indian name and speak in an Indian accent. The call centre employees working here are also Indians but with American names and American accents. All of us are living our lives within the same time zone. Is this not a strange dichotomy of modern life? Does this not raise questions of identity as well?" She has also developed a keen interest in the politics of Ďrepresentationí in the mass media. "I am interested in making films that create a strong presence for diverse, under-represented and silenced voices. Nalini by Day, Nancy by Night falls within this concern," explains Gulati.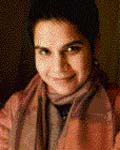 Sonali Gulati
Gulati has broken the conventions of editing in this film by including footages one would normally leave out. "Finance was a problem too. I used my personal savings to make the film. Some additional support came from my graduate school, Temple University. All documentary filmmakers across the board are constantly hassled by funding problems but we try and work around it," she adds.
The idea began three years ago. Gulati then had very little idea about BPO. Then she found herself wanting to talk to a person who called himself "Harry" across telephone lines from Delhi where she grew up. "I was surprised to find that he had got my name right and was calling me all the way from across the Atlantic." The urge to meet this person was so strong that she decided to visit Delhi in 2003 just to find out what it was all about.`A0 "I wanted to step into this strange world of call centres and language institutes. It was a fascinating world that turned into a living and learning experience for me. It was not just that one random call that set me packing my bags to go home. It was this desire to find out the relationship between these telemarketers and myself. This is what I have tried to articulate through my film."
Asked to define the structure of the film, Gulati says, "Itís a film that defies genres and categories. It is primarily a documentary in terms of conventional documentary forms such as cinema verite footage, interviews, archival footage on the one hand while on the other, it blurs the lines between documentary and fiction since it has a fictional narrative in the opening sequence that has been dramatised from real events." She has also used animation. This mixture of celluloid strategies was sought specifically to explore the complexities of globalisation, capitalism and identity. "All my earlier films were experimental in form and presented social issues as content." ó TWF