Nature
The scent of saffron
Saffron has been used as a textile dye, a table condiment, a perfume and a medicine. Europeans considered it a stimulant until recently, writes Kiran Narain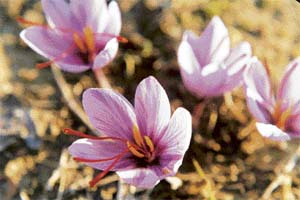 Over 200 flowers are needed to make one gram of saffron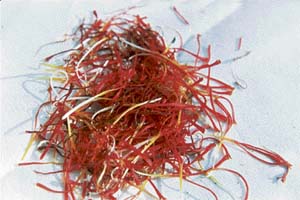 Saffron or kesar is the most expensive spice in the world
IN October or early November, when most of the landscape is bare in Kashmir, the dainty saffron buds burst into a feast of mauve and purple at Pampore. The air is redolent with the scent of saffron and filled with the buzzing sound of bees. People come here on full moon nights to flavour the exquisite beauty and sweet fragrance of saffron. It is even better in the mornings, before the flower picking starts.
Men, women and children march to the fields with willow baskets, traditional Kashmiri lunch boxes and samovars for tea and kehva. They gather the blooms by hand. The orange—red stigma and part of the style are carefully removed and dried in the sun. Often the whole flower is dried and then dipped in water. The petals and stamens, being lighter, float above, while the bright orange—red stigma (real saffron) settles at the bottom. The stigma is again dried and stored in tin boxes, polythene bags or even dry earthen pots and that makes the purest of pure saffron.
Saffron has a long and interesting history. It has been used as a textile dye, a table condiment, a perfume and a medicine. Europeans considered it a stimulant and a diuretic till recently, and even now it is valued for its medicinal properties in Unani and Ayurvedic medicine. It grew wild in the Mediterranean region along with some 70-odd varieties of crocus—yet it is the only one to bloom in autumn. The Minoans, who lived in Crete for several thousand years before 1100 BC (when their culture faded away in oblivion), manufactured saffron by pressing the dried stigmas and by exporting it all over the world. The proceeds contributed a good part of the wealth that kept them in splendour. For many years after that, saffron corms or saffron were as good a currency as gold in the Mediterranean region. It is believed to have travelled to northern Europe with the Crusaders and is said to have been smuggled into England from Algeria and grown in Essex profitably for many years.
Many stories are told in the Valley about the origin of saffron cultivation in Kashmir. Ashok Baba, (now called Sokh Baba Sahib) is stated to have introduced this beautiful flower to the valley. He grew it first in Nandanvan near Pampore, from where the present corms are supposed to have descended. A fair is held every year at the Ziarat of Baba Sahib, the saffron giver—with halwa and roti. The corms are planted in August-September in rectangular, raised beds to avoid stagnation. They are not lifted or transplanted for a decade at times.
The saffron crocus has three red stigmas and three yellow stamens. The red stigmata that are in common use have red filaments, broad and undivided at one end and tripartite at the other, with a volatile oil and peculiar colouring matter called polychroite. The red stigmata with an orangish tip forms first grade saffron known as Mongra. Extracted along with the yellow stem it is called Lachha and is considered second grade. More than 200 flowers are required to make just one gram of saffron. No wonder that it is the most expensive spice in the world and is thus likely to be adulterated with things like marigold petals, etc.
Saffron is a must in Indian households in spite of its high cost and the possibility of adulteration. Known as kesar or zafraan in North India or Kungumapu or Kunkumapuvu in the South, it is used as a seasoning in pullaus, Mughlai dishes and sweets, as a tilak in pujas and as a dye on auspicious occasions. A simple dish can be turned into something exquisite, classy and palatable with the addition of a pinch of saffron.
At Pampore, about 10 km from Srinagar, saffron is grown on a commercial scale on about 4,000 acres of land on high dry plateau. However, the produce is not sufficient for our domestic requirements and saffron is imported from Iran and Spain to meet the demand.