Ulta Pulta
Moonstruck
Jaspal Bhatti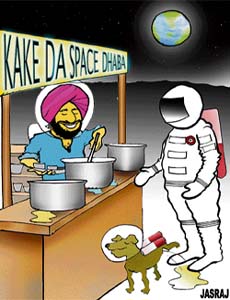 INDIA plans to put its men on the moon in the year 2020 which has caused a lot of excitement all over. The Ansals, Parsavnaths, Rahejas might have already started thinking of buying land and developing residential colonies there. The Ambanis are brainstorming over setting up refineries, communication systems and launching their mobile phone service — "Kar lo chand muthi mein."
Punjabis and Gujaratis, who are tired of settling down in the UK and the USA, will be ambitious enough to settle on the moon. Many would be interested in opening up space dhabas. Imagine a spaceship to moon stopping for a snack break and astronauts eating bread pakoras with tea at "Kake da space dhaba".
Lovers would not risk singing songs like "Chalo dildaar chand ke paar chalo". Because now if his beloved says yes, he will have to undertake a costly journey to the moon.
But women probably wouldn't be too excited about going to the moon unless some good malls are opened there.
Also one will have to be very careful about the travel agents. Before accepting their travel plan schedule, be sure to get everything clear. Otherwise, on return people will be heard saying, "Hamein to hamare travel agent ne loot liya — wahan jaakar bataya ke oxygen ka kharcha khane peene mein included nahin tha."