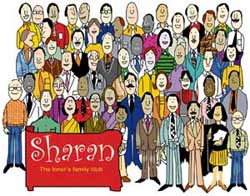 No longer lonely
With the formal launch of 'Sharan' on November 11, the city gets its first loners' club, reports Parbina Rashid
We had heard about clubs for single people in the metros, a place for lonely hearts to meet. Now, we have one of our own. But before you brush it off as another frivolous adventure by rich idle people, let us assure you that there is nothing glamorous or glitzy about 'Sharan—The Loner's Family Club', at least as you talk to the founder members, you realize, this is an entirely different concept from what you have seen in Femina or Cosmopolitan.



Youngsters in the region have put on their dancing shoes and are swirling feverishly to the beats of hip instructors, writes Anandita Gupta
Haven't we all nursed the secret desire that our favourite celebrities—those forever-shining stars on the fame's firmament—descend down to earth? Well, TV has been cashing in on this public desire to see celebrities beyond their public image, as struggling performers, dancing to our tunes. The result has been a delicious potpourri—kaleidoscopes of colour, hip-jerking, adrenaline-pumping dances by celebs gyrating to everything from Latin American ballroom and Jazz to Cha-Cha, Waltz and boogie styles.

STEP BY STEP: Youngsters taking Salsa classes in city
Graceful warriors
As birds chirped in the quiet distance, the tranquillity of the amphitheatre sprung to life under the footfalls of an impassioned performance. The dholki beats called forth the 'young warriors' and as the first and second year students of the Department of Indian Theatre streamed in for an impressive display of the Manipuri martial arts form, Thang-Ta, theatre's ability to draw from every facet of the country's vibrant traditions came alive.
WRITE TO RENE
Drop the dead donkey
I am a man of 42 years who was divorced 10 years ago. I have 2 children who live with my wife and come and visit me once in a while. My wife and I parted ways quite amicably and we have shared a cordial relationship with each other over the years. Now suddenly my ex-wife is trying to show special interest in me all over again. She has started making frequent phone calls and says she misses me and would like to try out living with me all over again. For the sake of the children, I am very tempted but I do wonder if it would be a good decision on my part as she is a lady with a vicious tongue and a foul temper.
FUN WITH FASHION
Backless in Chandigarh
Fluid and flowing—the cool, refreshing breeze is there, yet again, enveloping the City Beautiful. In fact, every evening, as the dusk softly gathers up the city in its snug arms; these cool winter winds dapple the atmosphere with a charming anticipation of the approaching winter. And strange though it may seem, most evening parties being held nowadays, are celebrating this nip in the air uniquely, with the bold and the beautiful fashionistas going back to 'backless.'
Glitter & bout
Go glamorous this season by wearing a little glitter on your next evening out, Shimmer, shine, razzle or dazzle with silver, gold or a frosted pastel, But please do it right. Balance the glitter on your face and here are some tips on how to avoid gleaming disasters.
Selling on radio
Tuning-In with Hardeep S. Chandpuri
You may remember that some time ago, I had talked about the importance of voice-overs in any radio or television commercial. Today I should like to take it a bit further and talk about the different types of 'reads' and 'sells' that are synonymous with this industry.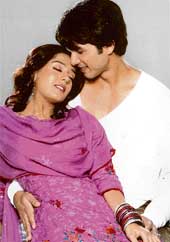 FILM REVIEW
Mellow drama
Sooraj Barjatya's Vivah, which was released on Friday at Batra, Chandigarh, Fun Republic, Manimajra, and K.C. Panchkula, once again propagates the family values he believes in. Rajshri Productions along with the new pair of Shahid Kapoor and Amrita Rao makes a promising return. Prolific and talented, Barjatya has come up with a good melodramatic family entertainer. It is embellished with a piously delivered theme of marital bonds. The film traces the relationship of a couple and their journey from engagement to marriage. Barjatya deserves accolades for delivering a delightful script. The movie is technically sound. Experienced composer Ravindra Jain is back with another fine set of songs. His lyrics also signify the relevance of relationships and marriage in life.
Shahid Kapoor and Amrita Rao in Vivah
MATKA CHOWK
Autumn leaves
Since the nip has been felt in the air – I have been feeling like a whole new woman. I have been noticing little things – things that somehow escape me in the midst of summer heat. Are we aware of the fact that every house now looks like a mini horticulture garden? Bougainvilleas of innumerable colours have suddenly sprung up on every terrace and every driveway, making this perhaps the Bougainvillea capital of the nation.
Mixing with love
The coming festive season just got a delicious pep today. Carrying on the tradition from last year, the Taj Chandigarh—17 had their annual cake mixing 'ceremony' to zing things off!
---