Ludhiana Calling
Government's pre-election appeasement moves might invite a lot of criticism, but even those condemning the government want to miss no chance to make the most of it. Recent case in point is industry that has been accusing the government of turning a blind eye to its problems. After repeated complaints when the Chief Minister met industrialists and agreed to one of their demands pertaining to submitting "C" forms, local industry took no time in organising meetings to express its gratitude toward the government. A few industrialists, who had been on the forefront of registering their protest, refused to come on record to admit that it was a pre-election appeasement move. However, while they did agree it was so, they added that they didn't want to protest further as it was the best time they could get more demands fulfilled.
Ingenious ingenuity
While finance companies, banks, etc. continue calling people for credit cards, loans et al in spite of court orders against soliciting, a large section of those using database from other companies for marketing of their products have devised a novel way of avoiding any hassles - by sending text messages related to their products and giving phone numbers in case one is interested in purchasing the product. Innovation is the key to good business!
Mob(iled)!
The coming days are likely to be full of challenges for mobile companies, so it seems. The initial euphoria of possessing mobile phones seems to be over and it is common to find people complaining of the nuisance these have been creating. Ever-ringing phones have not only become a source of disturbance but are adding to stress levels too. No wonder, companies have started publicising services like barring certain numbers. The day doesn't seem far when mobile service providers would start earning more from such services than from regular calling.
Stubble bubble
In spite of a ban imposed by Deputy Commissioner-cum-District Magistrate on the burning of stubble, it doesn't seem to have deterred farmers from going ahead with the practice this year. Consequently, environment is getting polluted more than ever, covering the region in a thick blanket of smog. It has rendered the region unfit for inhabitation with a large number of people, especially children, reporting to hospitals with respiratory disorders. One wonders if the authorities will just pass orders on paper or do something about it for the larger interest of community.
Whither winter?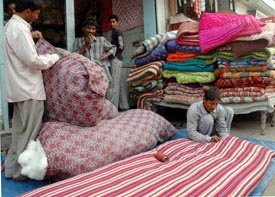 The outset of winter seems to be getting delayed with each passing year. With half of November already gone, residents are yet to officially declare winter by taking out blankets or woollens. With afternoons still staying hot, hosiery manufacturers are praying to the weather god to come to their rescue lest they should suffer losses.
Politicians forever
Elections are round the corner and its fever has already started to grip politicians. But it is shocking to see the extent to which leaders can go and try to sidestep major issues like cleaning of Budda Nullah. A local politician tried his best to ensure that the meeting of Budda Nullah Cleaning Committee, constituted by state government, was postponed by some months. Sources say a local leader was hell-bent on making sure that the meeting was not held, as it would raise a lot of hullabaloo and the present government would be in the dock for the state of affairs.
Parents' fancies
Schools fancy dress competitions can give parents a tough time, at least when it comes to selecting the dress for their wards. While parents want that their children to look different, their dress-sellers are falling short of ideas. So much so that a shopkeeper said mothers had lately started preparing dresses on their own instead of depending on readymade dresses. The run-of-the-mill fairy, Chacha Nehru, bride, groom and other characters are not finding any favours with today's mothers.
Road rage
The training of a revolver on a Tribune journalist by a motorist on the Club Road speaks volumes of the prevailing law and order situation of the city. If someone had the nerve to flash a revolver in the broad daylight, he could also have had no qualms about pressing the trigger in the heat of the moment. To everybody's surprise, the casual attitude of police officials on the issue showed very poorly on their seriousness in dealing with crimes. Instead of trying to cover up such incidents, they should focus on routing the crime by catching defaulters.
Poor children
The Supreme Court's directive on child labour seems to have had a little effect on minors working in the city. With the enforcement agencies looking the other way, poor children keep working to eke out a living. Though media has generated a lot of awareness on the issue, employers are reluctant in admitting that they have a child working with them.
Contributed by Shweta Pathak, Kanchan Vasdev and Jupinderjit Singh