M A I N N E W S
Foreign Secys of India, Pak to hold talks today
Rajeev Sharma
Tribune News Service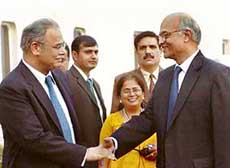 Foreign Secretary Shiv Shankar Menon (right) receives his Pakistani counterpart Riaz Mohammad Khan at the IGI Airport in New Delhi on Monday. — PTI photo

New Delhi, November 13
When the two-day Foreign Secretaries' level talks between India and Pakistan start here tomorrow, one concrete result that both sides are hoping to announce is an institutionalised joint mechanism on combating terror. The two sides may also agree to hold regular intelligence summits to make the joint mechanism more effective.

However, deciding the scope and parameters of such a joint mechanism will be the biggest challenge before the two Foreign Secretaries.

Pakistani Foreign Secretary Riaz Mohammad Khan, who arrived here this evening, will be looking at achieving two breakthroughs. One in his official capacity during the formal talks and the other in his private capacity as he makes an attempt tomorrow evening to forge unity among various factions of the Hurriyat Conference.

There are several red flags on the road to Indo-Pak joint mechanism on terror. The two sides have starkly different perceptions and views which can be briefly outlined as follows.

l Whether Jammu and Kashmir should be kept within the purview of the joint mechanism, and if, so, in what form.

l Whether the Hizbul Mujahideen should be included in the ambit of the joint mechanism. (Pakistan looks at Hizbul as a home-grown organisation of "freedom" seekers and not as a terror outfit.)

l Whether Pakistan-based terrorist outfits like Jaish-e-Mohammed Lashkar-e-Toiba should be included in the scope of joint

mechanism and, if so, with what conditions from the Pakistanis.

This correspondent understands that Islamabad is very keen that the Foreign Secretary-level talks are fruitful. That is because Pakistan President Pervez Musharraf has to face general elections by next year and he is also under pressure to shed his uniform. A concrete breakthrough with India will achieve just that for Gen Musharraf and will certainly pave the way for Indian Prime Minister Manmohan Singh's visit to Pakistan.

Therefore, Pakistan may well agree in the next 10 days to give a major concession to India on the issue of terrorism by taking some concrete steps. These steps may include arrests of some top-notch hardcore terrorists like LeT founder like Mohammad Hafiz Sayeed.

In this backdrop, Pakistan's Foreign Minister Khurshid Mehmood Kasuri's forthcoming private visit here on November 26 will assume great political and diplomatic significance.