Sealing spurts commercial rentals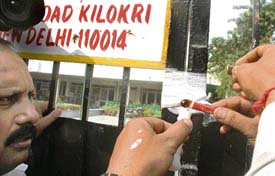 The sealing drive has been a boon for some as retail rentals on the periphery and satellite towns of the capital spiral upwards,
claims S. Satyanarayan
The sealing drive started by the Municipal Corporation of Delhi (MCD) of commercial establishments in residential colonies of Delhi has led to spurt in the rentals of legal commercial properties in the National Capital as well as in satellite towns and offshoot cities.
Drive to jack up office rentals, says C&W report
The sealing of unauthorised commercial establishments by Municipal Corporation of Delhi (MCD) will lead to a partial increase in office rentals given the demand for legitimate space.
Noida to have a Connaught Place too
Real estate developers Omaxe have decided to build a 'Connaught Place' in Greater Noida in UP.
India sees highest retail rental growth in Asia-Pacific: study
A booming real estate market and a sharp surge in consumer spending levels have seen India emerge as the biggest gainer in Asia Pacific in terms of rise in retail rentals, a new study reflects.
HUDA to add more amenities in Gurgaon markets
The Haryana Urban Development Authority (HUDA) has decided to give a face lift to the markets in its sectors and provide more civic amenities in the markets to make them more holistic. This is expected to further push to the rates of land prices in HUDA sectors.
TAX tips
Major borrower can get more rebate on home loan
Q. My wife and I own a plot. We want to construct it by taking a loan from a bank. We both are Punjab Government employees. We both want to take tax benefits from the interest paid and the principal paid. How should we proceed? Should we pay instalments from our own accounts with different cheques or from joint account? Can I claim more benefit than my wife? Please elaborate.

Encroachment by land mafia on rise
J&K Chief Minister Ghulam Nabi Azad's disclosure that about 13 lakh kanal of government land in Jammu and Kashmir has been grabbed by the land mafia is just the tip of the iceberg.
Samsung acquires 80 acres in Sripurumbudur SEZ
The Tamil Nadu Government is wooing large multi-nationals inviting them to invest in its SEZ at Sripurumbudur, 70 km from here.
Steel your structures for longevity
The coming years are expected to witness extensive usage of steel in Indian architecture. The pace of growth in steel-based structures, that have been gaining popularity in the last four-five years in the country, is much slower in comparison to worldwide trends, say experts.



Howrah Bridge in Kolkata
Ansals to invest Rs 2,000 cr
Real estate firm Ansal Housing and Construction Ltd (AHCL) plans to invest Rs 2,000 crore in the next four years to develop various projects, which include seven townships in Tier II cities.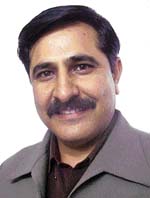 Plan for Chandgarh Capital Region must to check peripheral slums, says developer
Integrated development of Chandigarh's periphery was the need of the hour and the Chandigarh Administration, the Punjab and Haryana Governments should sit together and work towards the "Chandgarh Capital Region" to check haphazard urban growth, says Sunil Bandha, realtor and Director of the Zirakpur-based O.N.S. Builders and Promoters.


Sunil Bandha
TDI to expand in North India
Real estate firm TDI has chalked out a major expansion plan for next 3-4 years, which includes development of seven townships in Tier II and Tier III cities in North India, besides foraying into the hospitality sector.
Ishaan to raise $ 340 million
Riding high on the recent success of pure-play realty biggies in the Indian capital market, another realty firm is taking one step further by aiming to list on London Stock Exchange to raise Rs 1,520 crore ($ 340 million).