Keeping hope afloat
Jupinderjit Singh meets three families which refused to buckle under hardship and injustice. They did not choose to be losers in the face of misery. They could have blamed the rot in the system for their sad plight. But they chose a more challenging path to prove that hope sustains
IN these times of general pessimism, hope is a word that is heard less and less frequently. However, there have always been individuals who have shown that no matter how hopeless the system, nothing can stop a determined person.
Here are examples of three persons whose indomitable spirit made them go a long way. Their urge to surge forward despite all odds has made them real-life heroes.


PERSEVERANCE PAYS: Babu Ram with his family (son Raj Kumar is with the racquet) and coach Gian Inder Singh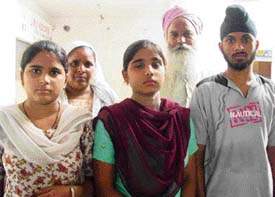 HARD WORK COUNTS: Gurnam Singh with his family
Realising dreams
Gurnam Singh, a resident of Moti Bagh in Ludhiana, has shown that single-minded devotion to a goal can help you accomplish it. A daily-wage earner, his meagre earnings did not discourage him from dreaming about providing higher education to his two daughters and one son.
He himself could not study beyond matriculation because he had no money. But he did not let his offspring feel the pinch of poverty. He toiled day and night, while the children managed to earn scholarships, to realise their aim.
His wife Mohinder Kaur chipped in by stitching clothes and doing sundry jobs. By and by, they strengthened their financial position. Gurnam's focused hard work finally paid off. Today, he is a proud father: his eldest daughter Gurinder Kaur is a doctor, the younger Rajinder Kaur is an electronics engineer and the son Hargobind Partap is studying in an engineering college.
Gurinder completed MBBS from Rajindra College, Patiala, with first division and is doing her internship there. Rajinder Kaur did engineering in electronics and mass communication last year and Hargobind stood 17th in the entrance exam to Sant Longowal Institute of Engineering and Technology in 2004.
Gurnam's journey was dotted with thorns and dead-ends but he never lost hope. He would even go to government offices, banks and media organisations seeking help. He did not surrender to circumstances by marrying off his daughters and concentrating on just the education of his son.
The family members have lost count of the number of times they have had to sleep on a hungry stomach. Such was his zeal and single–minded devotion for making the career of his children that even the Punjab Government took notice of the reports in the media about his efforts and gave him Rs 1 lakh as a special grant.
Generous donations from organisations and philanthropists made it possible for him to finance his children's education.
Fight for justice
Six years ago, the world of Rakesh Kumar, a garment designer, came crashing down when he fell into a manhole. The fall left him paralytic. By the time he was able to move the left side of his body, after several months of costly treatment, he had lost his business. With passage of time, he collected bits and pieces to run a printing press. But this business just did not pick up.
To add to his woes, the trauma of having to suffer because of negligence of the Ludhiana Municipal Corporation, whose employees had left the manhole open, did not let him sleep. He decided to raise a voice against the negligence of the MC.
He and his wife did small jobs to sustain themselves. He kept knocking at the doors of the authorities to get justice. His zeal to get justice attracted media attention. The media reports in turn drew the attention of the Punjab Human Rights Commission. Eventually, the Punjab Government announced a compensation of Rs 1 lakh.
Rakesh's grit and determination to fight for justice was awarded doubly. Both his son and daughter got excellent career breaks. While his son Ankur was recruited as computer engineer with TATA Company at Gurgaon, his daughter was taken in as software engineer with the same company. The hard work of the parents bore rich fruits as the family, struggling to have two square meals per day, had plenty to live by.
"My children did not require anyone's recommendation. I too got justice after repeatedly taking on the insensitive system. I would always say all is not lost. Hope is still there," he says.
Poverty and incapacitation could not conquer his spirit. A businessmen operating from the mini secretariat had offered to set up a kiosk for him to sell cigarette/pan. But he had bluntly refused, saying: "I would prefer to die of hunger rather than sell poison."
Ace player
Babu Ram, a migrant labourer from Bihar, is another towering figure of fortitude. A frail, wrinkle-faced man, he came to Ludhiana as a migrant labourer over three decades ago. For the first decade, he worked as a construction labourer. Then he took up a few other jobs before he became the caretaker, a Class-III post, of the Shastri Badminton hall.
He served badminton players, and cleaned the hall during day and kept watch at night. He could never dare to dream that his children too could one day become players.
Living in one room with his wife, two sons and a daughter, Babu Ram would often see his toddler elder son playing with racquets. But he would shoo him away, fearing that his son would invite the ire of players and coaches.
But talent cannot be subdued for long. His elder son Harish Kumar played when the hall was empty. Soon, his play caught the attention of badminton coach Gian Inder Singh. "He saw my children playing and encouraged them."
Harish soon became the district champion and went on to play for the country in the World Badminton Championship organised in Hong Kong. He had already won several coveted badminton championships at the national level. He was soon picked up by the Railways and won the Inter-Railway Championship.
Destiny, however, had other plans. A cruel road accident snatched away Harish. Soon, however, his younger brother, Raj Kumar, became National doubles champion in the under-13 category. In singles, he stood fourth. Currently, he has been practising hard to represent India in the under-16 Junior World Badminton Championship. He looks towards his ageing father for motivation.