How easy to dispose of the poor
Arun Gaur

Yamuna Gently Weeps: A Journey into the Yamuna Pushta Slum Demolitions
by Ruzbeh N. Bharucha.
Sainathann Communication, New Delhi.
Pages 296. Rs 700.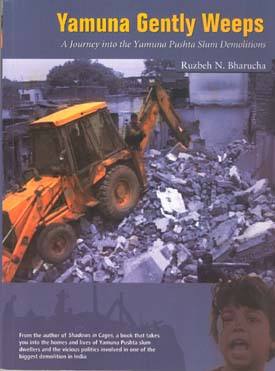 May 9, 2004—one day before the Lok Sabha general elections. Houses of 1,50,000 poor men, women, and children, residing at the Yamuna Pushta slum of Delhi for almost 40 years, were bulldozed and razed to the ground. Nothing remained. Only 20 per cent of the evicted persons were relocated, and that too to a barren place 40 km away, while 80 per cent left to the mercy of streets from where they could be picked up any moment with the charge of vagrancy by the police. The ostensible reasons for eviction: encroachment of Yamuna-bed and pollution of the river. Real reasons: judiciary-politicians-land mafia nexus, destruction of a vote bank, removal of the eye-sores (the poor), greed for the prime-land, Shanghai-zation.
May 12, 2006—two years later. Bulldozers were about to demolish unauthorised bungalows and shopping centres of the affluent and the mighty. Urgently and promptly, the government and the opposition political parties huddled together to pass in the Lok Sabha a bill that "proposed a one-year moratorium from punitive action against unauthorised development in the national capital" to prevent "unnecessary hardship and harassment to the citizens of Delhi."
What is the lesson? In India we have two kinds of verdicts, laws, and systems of governance—one for the poor and the other for the rich. Excoriating the hapless slum-dwellers, the Supreme Court stated: "Poverty could not be an excuse for living in slums. Nobody forced you to come to Delhi." Ruzbeh makes it clear that "migration in India is not out of choice; it is a matter of life and death."
In such a land, the author has his doubts whether the meek will ever rule.
"Look what inhuman deed was committed in the slum," Ruzbeh seems to say through a sequence of remarkable and well laid out photo-frames converted from his documentary film. They illustrate a point—how life was gradually built up, how it achieved an even tenor, and how it was mercilessly uprooted with a stroke of a mighty elitist pen. It is a procession—a kid searching for coins in grey water or running to an eatery to grab his delicious one-rupee meal or hugging a pink pup half his size, a drum-maker trying his fingers on his drum, a balwari with smiling Mickey Mouse, a dinghy made of scraps ferrying commuters, a youth with his Taj painted all over the wall before it crumbles, a dog sleeping over rubble, yellow bulldozers, blue-shirted policemen, impotent face of V.P. Singh, women cursing Jagmohan—the demolition demon, dazed eyes, dust, dusk, exhaustion, unusable lavatory at Holambi Kalan.
In the second half of the book we have rigorous analysis by the experts from different fields. We come to know that the slum was responsible only for 1 per cent pollution of the Yamuna and the poor serve all of us only to be criminalised at the end of the day, belonging neither to their villages nor to the city. What about the Delhi Metro, Delhi Secretariat, Akshardham Temple and Commonwealth Games Village? All of them are the encroachments on the riverbed; albeit, with a massive political patronage. Cruelty on the poor is just a symptom of a larger morbid perspective: false premise of global development, systematic political economy of eviction, inadequate agrarian reforms, centre-periphery-rich-poor city model, selective deployment of the Master Plan of Delhi, anxiety of the judiciary to be on the side of the well-articulated voice of the rich and the middle-class, media least interested in taking up the unprofitable issues of social justice.
Solution? Perhaps mass movements, more accountable state and judiciary, civil society action, rural development, and political will may help. And if the malady continues, then Delhi, or any other city for that matter, would be nothing but an unendurable mass of high-rise buildings having apathetic and self-centered inmates continually and mercilessly shifting millions of their poor serving brethren from fringe to fringe. There might be even an exodus.
The book is a powerful presentation of a crucial issue. Through its double-pronged attack—the pictorial and the analytical—it picks up a case study with much wider ramifications. It can make many souls turn in their graves.