Goa all set for
movies and shakers
With Goa emerging as the hub of cinema and related activities and the permanent venue for the International Film Festival, the state has a lot to celebrate about, reports Ervell E. Menezes, while Prabhjot Singh talks to Goa government officials on how they are pulling out all the stops to make IFFI 2006 a hit with both participants and viewers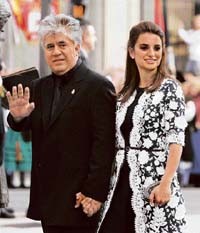 IFFI's opening movie Volver has been directed by Pedro Almodovar, seen here with Penelope Cruz who stars in it
"THE Whole World is One Family" is the theme for the 37th International Film Festival of India, Goa, or IFFI 06 as it is referred to. Chief Minister Pratapsing Rane said the Festival was "a blend of various cinemas" and so it is. Each year he seems to be getting more knowledgeable as he must for soon the Entertainment Society of Goa (ESG) will be taking the Festival over from the Directorate of Film Festivals (DFF).
"We want to make the state a hub of film activities," says Rane, adding that Rs 5 crore would be raised by sponsorship, while the remaining Rs 5 crore would be given by the Centre to run this 11-day extravaganza annually from November 23 to December 3. It would culminate in the feast of Goa's patron saint Francis Xavier.
To gain an all-India coverage, the ESG held press conferences in 10 cities, including Chandigarh. It is hoped that all roads would lead to Goa for the event. The aim is to put up a better show as compared to the previous years and prove that the teething troubles are behind them. Direct international flights to and from Goa will surely help, since in the past it was quite a problem having to co-ordinate flight departures via Mumbai.
Advancing the date from the original January to late November is another asset since the advent of winter is possibly the best time to be in Goa. The time is appropriate because it will also not clash with the Christmas-New Year revellers who descend upon Goa like a horde of locusts.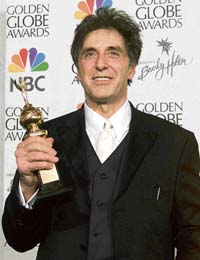 Retrospective on Al Pacino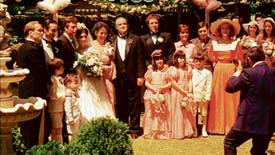 Godfather will be screened at IFFI 2006
"We want to shift the focus from Bollywood to regional cinema, said Chief Secretary J.P.Singh, who is no stranger to Goa having served as Deputy Collector of Goa in the early 1980s. He was surprised that there was no Punjabi entry in the Indian Panorama section. In the past few years, southern filmmakers have been sidelined, with Bollywood taking centrestage and bringing with it stars and starlets who arrive late and thus delay screenings. This time they are keen to make amends.
About Inox continuing to run the multiplex even after being under the scanner, J.P. Singh said they were helpless because of the "first right of refusal" clause signed with the Goa State Infrastructural Development Corporation (GSIDC) which necessitated them+ to raise their bid from Rs 7 lakh to Rs 31 lakh which means the burden will be passed on to the customer.
Veteran Bollywood actor and director Shashi Kapoor will be the chief guest. Shah Rukh Khan will be coming and so will Priyanka Chopra and others of the Bollywood ilk of whom there is never a dearth. The problem has always been getting big international names. Spanish director Pedro Almodovar is not among those expected to come even though IFFI 2006 will open with his film Volver. Neither is there any word of closing film Babel director Alejandro Gonzalez Inarritu making an appearance. Richard Attenborough is likely to come because his Gandhi is to be screened in its silver jubilee year.
The Confederation of Indian Industry (CII) which has not exactly covered itself with glory in the last two festivals is out to please. ESG chief executive officer Nandini Paliwal said there would be five or six lounges in the Market Section or what they call the Film Bazaar to be held at the Kala Academy. A one-and-a-half-day conference on "India: The Big Picture," beginning on the eve of IFFI at Goa Marriott Resort, is expected to discuss the changing face of Indian cinema. It will be followed by the Film Bazaar from November 24 to 29 with the co-operation of the Ministry of Information and Broadcasting, the National Film Development Corporation (NFDC), The Film Exporters Association and the Entertainment Society of Goa.
Paliwal said the other lounges would deal with a technical training workshop, which she said would be invaluable to students of cinema. There will also be a wide range of films—over 100 of them—with Cinema of the World Section comprising 59 films, and a special focus on Argentina which would have nine films.
There are two Indian entries for the Competitive Section of Asian, African and Latin American Films. They are Srigaram (Tamil Nadu) by Sharda Ramanathan and Sonam (Arunachal) by Ahsan Mujid. Prominent among the 18 films in the Indian Panorama are Rituparno Ghosh's Dosar, Girish Kaseravalli's Nayi Neralu, Mridul Tulsdas' Missed Call, Chitra Palekar's Maati Maay, T.V. Chandran's Adamkutu, Manju Bora's Joy Moti, M.P. Sukumaran Nair's Brishtauthan and Pankaj Prasher's Benaras.
There will also be retrospectives on G. Aravindan and Al Pacino. Vasthuhara, Thampu, Kanchana Sita, Chidambaram and Eshtappan are Arvindan's films to be screened while Pacino's films comprise The Godfather II, Scent of a Woman, And Justice for All, Glengarry, Glenn Ross, Dog Day Afternoon and Serpico..
J.P. Singh promised to have screenings in smaller towns too like Valpoi and Mapuca and on the beaches too to spread the film movement. It is equally important to screen films in local cinemas too. When public relations person Ethel D'Costa was reminded that we did not get the delegates' list at all, she promised that the glitch would not be repeated.
Like last year, there will be music concerts and other forms of entertainment too, The organisers aim not to overdo it so that the focus remains on cinema. Then of course there will be boat cruises and other forms of entertainment and sight-seeing, so that one could even take a break from films. As for Goan cuisine, there are a handful of Goan family-run restaurants with reasonable rates in the capital city of Panjim, like George Bar & Restaurant near Panjim Church and Bar Godinho near National cinema or Corina's on the waterfront.
"One of the best fall-outs of IFFI is the forming of film societies," says film buff Andrew D'Souza who is a member of The Moving Images film society which is in the second year of its existence and screens films on alternate Fridays at the International Centre in Dona Paula.
Senior journalist Devika Sequeira too is happy with IFFI being held in Goa. "It is important to identify a place with the film festival and Goa is quite right," she points out. That it took 35 years to realise that, however, is quite inexplicable. But today many states have their own festivals which means that film culture is surely spreading.
That the DFF and the ESG do not see eye to eye is no secret and quite often that hampers the running of the Festival. It is believed that the Ministry was not keen on relinquishing its control but the ESG is believed to have exerted pressure. But the true test of the success of the festival will be on professionalism. There will always be political pressure on passes for films or dinners or whatever. It is firm administration that is the need of the hour. Whether the organisation will be as smooth as the Mandovi, only time will tell. But one sincerely hopes it is.
Zoom in on the big picture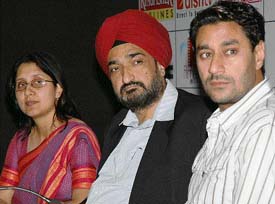 Chief Secretary, Goa, J.P. Singh (centre), with Nandini Paliwal, CEO of Entertainment Society of Goa, and Punjabi folk singer Harbhajan Mann
Is Goa slated to be India's next entertainment super-hub? Holding of the third consecutive film festival there from next week is spearheading its growing recognition as an International cinema destination. The IFFI 2006 synergises global participation, high-profile glamour, world-class entertainment and internationally applauded films. Add to that a beautiful locale and the frills and fancies that come with a red carpet event and you have the perfect concoction of fun, glitz and quality entertainment, say those behind making Goa India's Cannes. "Go Goa" continues to be the buzz word for the cine goers.
IFFI Goa, 2006, billed as India's emerging Cannes, will not be just about remarkable films, it's 240 hours of sheer entertainment and fun. The festival schedule this year is packed with world premieres, film bazaars, children's workshops, and street animation and music concerts. Add to that open-air beach screenings of animated, cult and revolutionary movies, and Goa will continue to be memorable with its picturesque and beach resort-like setting of the film festival. With screening venues ranging from the four Multiplex theatres and the splendid 900-seater auditorium at the Kala Academy to the special open-air locations like the National Institute of Water Sports Ground (NIWS), it promises a dose of the ultimate in cinema.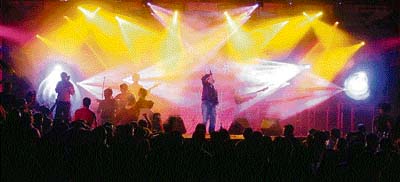 The Entertainment Society of Goa plans to stage rock shows to draw crowds. A file photo of Pink Floyd's earlier rock show at Goa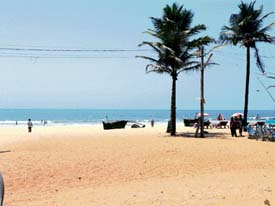 As promoted by the ESG, the experience of watching movies at the beach is a unique one
Screenings of the films at the 11-day festival will commence on the shores of the so-called paradise from November 23. This time the festival will feature a special retrospective of Prithviraj Kapoor's films, and a special screening of Richard Attenborough's Gandhi will also be held to mark the first centenary of the Satyagraha movement launched by Mahatma Gandhi.
This year as well, IFFI, India's most prestigious film festival, boasts of some of the finest movies made in the past year. The season opens with the Penelope Cruz-starrer comedy Volver, which bagged the 'Best Screenplay' and 'Best Actress' awards at the Festival de Cannes, 2006, and will sign off with Brad Pitt's Babel, winner of the 'Best Director' at Cannes again. Interspersed between these two will be critically acclaimed international films from Asia, Africa and Latin America competing for the 'Golden Peacock', while 40 countries from around the world will showcase cinematic creativity in the Cinema of the World Section.
While Goa continues to hog the limelight, interestingly, Chandigarh had been chosen as one of the nearly dozen venues where the Government of Goa and the Entertainment Society of Goa held media briefings to market the event.
Chandigarh has been contemplating setting up a film city for sometime. It has set up an advisory committee headed by none other than Yash Chopra. Included in the committee are big theatre and film names like Anupam Kher and Raj Babbar besides city's own Jaspal Bhatti.
The theme of the festival — the Whole World is One — aims to provide a common platform to cinematographers, industry professionals, students, marketing professionals, media and the general public to project the excellence of film art, contributing to the understanding and appreciation of film culture of different nations in the context of their social and cultural ethos.
Rolf de Heer, award-winning director from Australia, will be the chairman of the jury at the Festival. The other members will include Vincent Maraval (producer, co-founder of Wild Bunch, France), Olivier Assayas (award-winning film director of France) and Jahnu Barua (award-winning director from Assam).
Five curators nominated for various sections are Malti Sahai (Country Focus), Uma da Cunha (Film India Worldwide), Deepa Gahlot (Indian Premiers), Sudhir Nandgaonkar (Foreign Retro) and Vijay Singh (Master Classes). IFFI will also have a retro of Javier Bardem of Spain and also of digital editing to be presented by Steven B. Cohen from Hollywood.
Goa's film event company, the Entertainment Society of Goa (ESG), was established in 2004, as the nodal agency for the organisation of IFFI. Its main objective has been to frame an entertainment policy to help cultivate Goa into the 'International Entertainment Nerve Center' of the country.
The state wants to earn revenue on a long-term basis from ventures in film entertainment and leisure project. In pursuance of this objective, holding of IFFI has become a permanent feature in Goa since 2004. The society has also been making a concerted effort to build a year-round event calendar, encouraging joint co-productions with international brands in the field of cinema, marketing and branding Goa through ventures that focus on entertainment and allied activities.
Some time back when the Chief Secretary, Goa, J.P. Singh, and the CEO of the society, Nandini Paliwal, came to Chandigarh, they wanted film producers and directors from this region to set up shop in Goa. They had with them Punjabi folk singer and film producer Harbhajan Mann. Based on its reputation as a tourist destination, with its unique flavor of European lifestyle co-existing with multi-cultural ethnic sensibilities, Goa is now gaining a foothold in the celluloid world.
The ESG endeavours to inculcate a cinematic sense of appreciation and infrastructure to attract international standard film studios, film institutes and build comprehensive facilities and provide services for telecommunications, entertainment and its allied products, through a self-sustaining pattern of revenue generation.
— Prabhjot Singh