Rare 17th century manuscripts found
Kuldip Dhiman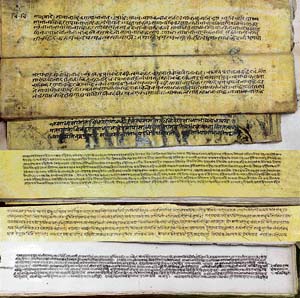 Most of the manuscripts are written in the Devnagari script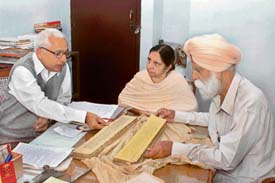 Prof Dharmananda Sharma, Sarvada Sharma and Dr Harbans Lal Bawa examining the manuscripts.
AN invaluable treasure from antiquity has been saved for posterity, thanks to the efforts of the person who preserved it without knowing its value, the manuscript hunter, who pursued it tirelessly and the expert who examined its worth.
As Survey Scholar for the Ministry of Culture and Tourism, Dr Harbans Lal Bawa, keeps looking for ancient manuscripts. His search led him to the house of Sarvada Sharma, who works in the Fine Arts Department, Panjab University.
All along she had known that there was something valuable that her father Madan Mohan Sharma had left behind in two boxes, but she had had no idea what it was as she didn't know Sanskrit and other ancient languages.
How these boxes containing manuscripts came into the hands of her father is also not known. He had tried to have these published, but never succeeded. Sarvada Sharma, nevertheless, preserved these safely for decades.
When Dr Bawa approached her, she was weary and avoided showing the boxes to him for more than a year. But his persistence paid off and she agreed to show them to Prof Dharmananda Sharma, an expert in ancient manuscripts and Indian philosophy.
The professor opened the boxes carefully and after reading only a few pages knew that they needed to be examined in detail.
After weeks of painstaking work, Prof Sharma and Dr Bawa knew that they had accidentally stumbled upon a set of rare manuscripts.
According to Prof Sharma, who teaches Indian philosophy in Panjab University, these boxes contain not one manuscript, but several.
The most important one is Tattva Chintamani written by Gangesha, who brought about a revolution in Indian logic in the 13th century. He theorised on the means of acquiring true knowledge, and the school came to be known as Navya Nyaya. This was a turning point in Indian logic.
Gangesha's contribution is unique, and we can compare it to the development of modern logic in the West that is exemplified in the work of Boole, Frege, Russell.
"After Gangesha," observes Prof Dharmananda Sharma, "Navya Nyaya developed for 300 years mainly in what was called Navdweep — the region between Mithila and Navada, that is, the present Bihar and Bengal. Gangesha's seminal work resulted in a large number of commentaries. It was a golden period of Indian logic.
Apart from Tattva Chintamani, we have here a manuscript of a commentary called Didhiti written by Ragunatha Shiromani (15th century) who was the head of Mithila Vidya Peeth — a university where only logic was taught and developed.
We also have Jagdishi by Mathura Nath, Gadadhari by Gadadhar, and a commentary from Noormahal in Punjab. Unfortunately, the author is unknown. The Noormahal manuscript is particularly interesting, as logic does not have deep roots
in Punjab."
The language of these manuscripts is Sanskrit, and most of them are in the Devnagari script, but there is one in Maithili, and one in what looks like Bengali.
Some are incomplete. In this set are also two krodepatras or what we call appendices.
Examining the paper used, the ink, and the kind of border used, Prof Sharma says that they are about
300-400 years old.
With the help of Dr Bawa, he has catalogued the entire set, and it is due to be handed over to the government.